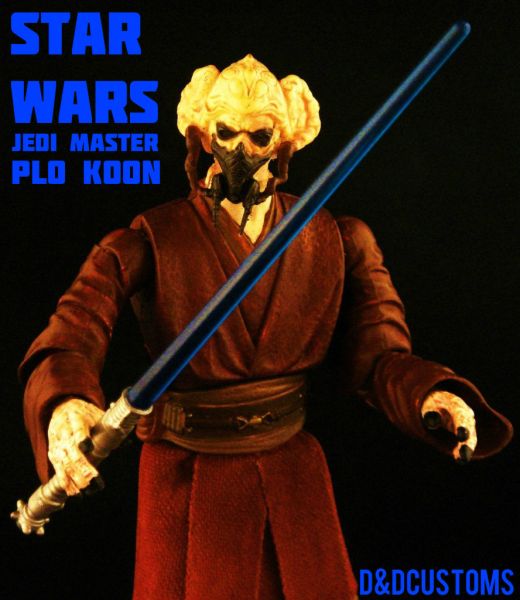 | | |
| --- | --- |
| Custom #: | 46258 |
| Name: | Jedi Master Knight Plo Koon |
| Custom Type: | Action Figure |
| Toy Series: | Star Wars |
| Creator: | D&DCUSTOMS |
| Date Added: | January 19, 2013 |
| Base Figure: | Multiple |
| Height: | 6.50 inches |
| Completion Time: | 40.00 hours |
| Articulation: | 32 points |
A Custom Marvel Legends DC Universe Style 6 to 6.5 inch 1:12th scale Fully poseable JEDI MASTER & KNIGHT COUNCIL MEMBER ACTION FIGURE KIT PLO KOON. Custom sculpting, dremeling,and rearranging of multiple parts from two to three different base figures. Primed and painted, colorwashed and sealed for different shades.
Over 32 points of articulation. Jointed knees and elbows. Thighs and hips move in all directions, ankles move,waist rotates, shoulders are ball jointed, arms swivel, wrist turn,head rotates and more.

KOTOR KNIGHTS OF THE OLD REPUBLIC
Jedi Master on the JEDI Council.


Measures about 6.25 to 6.5 INCHES TALL
This is our version ELITE DELUXE EDITION 1.0

MASTER PLO
Plo Koon was a Kel Dor male from the planet Dorin who became a Jedi Master and member of the Jedi High Council, holding the position from before the Invasion of Naboo to the end of the Republic in 19 BBY. During the Clone Wars, Koon served as a Jedi General in the Grand Army of the Republic. Plo Koon was also an accomplished starfighter pilot.

He was a close friend of fellow Masters Qui-Gon Jinn (whom he fought alongside during the Stark Hyperspace War), Micah Giiett, Ki-Adi-Mundi and noted fighter pilot Saesee Tiin.

Plo Koon was shot down over Cato Neimoidia by his clone troopers, killing him in compliance with Order 66.
Native to the planet Dorin, homeworld of the Kel Dor species, Koon was accustomed to breathing in an atmosphere containing little oxygen, forcing him to wear an antiox breath mask when abroad.
During a mission to Shili, Plo Koon found an infant, Force-sensitive Togruta named Ahsoka Tano. Taking her to the Temple for training, he kept an eye on her progression through the academy, nicknaming her "Little Soka" and maintaining a close bond with her.
Plo Koon was a powerful Jedi Master and the mysterious Sith Lord Darth Maul considered him to be one of the greatest Jedi warriors of his time though they never dueled one another. Koon was a master of telekinesis, and could move objects without having to face them. He also used a forbidden Force technique called Electric Judgment. To many Jedi, this seemed to be too close to the Force lightning employed by the enemies of the Jedi—the fearsome Sith Lords. He wore talons over his fingertips, allowing him to further augment his already considerable Force powers.

Plo Koon possessed an extensive knowledge of the physical sciences. In particular, he used his expert knowledge of physics along with the Force to alter the environment—the resourceful Jedi could create small whirlwinds as well as a dense fog over a limited area, freeze tiny rivers and lakes, and raise or lower the temperature of his surroundings enough to incapacitate an opponent.

In addition to the Jedi, Koon also belonged to the Baran Do, a Force sect predating the Jedi from his homeworld of Dorin, as members of his family had been over the centuries. As such, he was a master of a number of their techniques, such as ayna-seff.

Possessing great strength, Koon was a master of hand-to-hand combat. He was also a master of the fifth form of lightsaber combat, Djem So/Shien.Master Plo was considered amongst the most skilled swordsman in the Jedi Order, being capable of fending off even Asajj Ventress while being encumbered by a broken arm.

He was a skilled pilot and his piloting skills were as well known as his abilities with a lightsaber. Some people considered him to be the third best pilot in the Jedi order after Anakin Skywalker and Saesee Tiin. Koon also had the ability to breathe and survive in space for a short period of time owing to his thick Kel Dor hide.

Please see all our other Star Wars 6 Inch Scale Customs by clicking on our ID. We will list 10 more this month and next. Thanks!