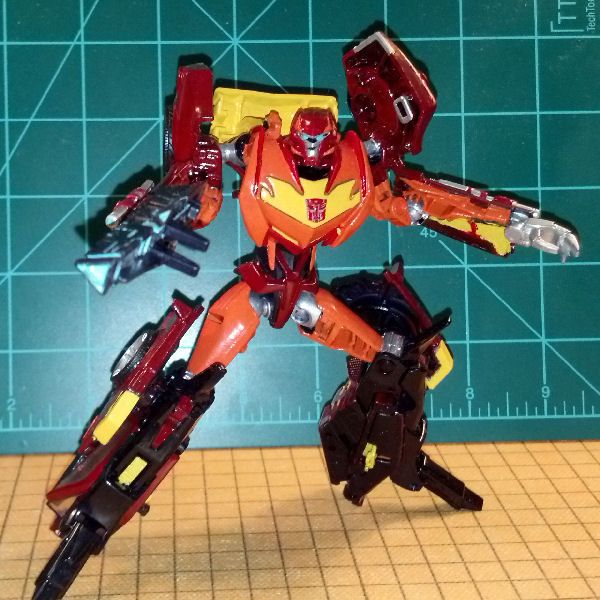 | | |
| --- | --- |
| Custom #: | 46259 |
| Name: | Rodimus - Prime |
| Custom Type: | Action Figure |
| Toy Series: | Transformers - Prime |
| Creator: | Glitch |
| Date Added: | January 19, 2013 |
| Base Figure: | Vehicon - Prime |
| Height: | 5.00 inches |
| Completion Time: | 12.00 hours |
| Articulation: | 21 points |
Hello Realmers!
This time around, I decided to do my first attempt at customizing a Transformer. I had purchased a Prime Vehicon on a whim because, as the Prime series goes, this is to me one of the best looking figures. It sat on my shelf for some time when one day it clicked...
This figure is PERFECT as a Rodimus! Other than layer after layer of Testors model paints, the only physical changes I made were carving out a mouth, and drilling holes for the blasters on his arms, which were from some Cyberverse Wheeljack's I picked up on clearance specifically for this. Oh, and the Autobot insignia on his chestplate was cut from an Alternators Smokescrean blaster. Rodimus was one of my most favorite TF's as a kid, and I'm thrilled with how this turned out. Hopefully other fans of his will feel I did him justice.

For those who like backstories, here's how I explain his sharing a common form with half the Decepticon armada:

During the peak of the Great War for Cybertron, Alpha Trion set into motion contingency plans in preparation for what could be some of the Transformers' darkest hours. But, Decepticon spy Ratbat managed to infiltrate Alpha Trion's secret workshop and steal the files detailing the build of a secret weapon - a fast, strong, powerful body, which Megatron used as the base for his Vehicon army. Fortunately for the Autobots, they could only ever be at best 20% the intended potential without one thing - the spark of a Prime! One of these Alpha Trion's plans became the implanting of his "secret weapon" among the Decepticon ranks, who would be known as Rodimus Prime! His selection as a Prime was kept hidden from all, including the current Commander, Optimus Prime. Hot Rod, as he was previously known, showed great potential and skill, and was chosen directly by Vector Sigma through Alpha Trion with the intention of giving Optimus a right hand General capable of aiding in leading the Decepticons to defeat. Upon accepting the responsibility, Hot Rod's spark was imbued with the power and knowledge of the Primes and Primus himself, then inserted in powerful body created for him. Thanks to having the same frame-build as the Vehicons and a new system upgrade in the ability to shift his appearance to mimic that of his 'Con counterparts, he infiltrated their ranks to get close enough to Megatron to put him out of comission for good! Unfortunately, Starscream, in a scheme to take control of Megatron to take leadership for himself, he unknowingly short-circuited Rodimus when he accidentally set off his EMP device that sends out a virus designed to convert Autobot programming to that of Vehicon Drones. Upon his awakening, he was under the control of the virus and served as a faceless Decepticon soldier. So when you notice that ONE Vehicon who seems to always be fast and agile enough to NOT get shot, that is Rodimus natural survival instincts acting to keep him out of harm. Every waking moment, his subconscious fights for its freedom, forcefully enough to make sure his attacks always miss his fellow Autobots. Soon, he will break free and finish the mission he was comissioned so long ago!

If you made it through all that, you are a trooper! Ha!

Thanks for looking.