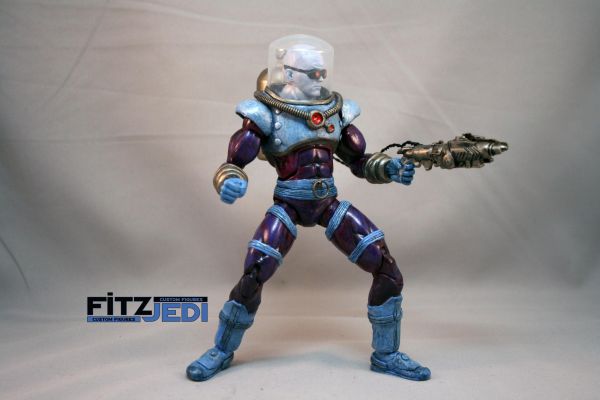 | | |
| --- | --- |
| Custom #: | 46679 |
| Name: | Mr. Freeze Arkham Asylum Prototype |
| Custom Type: | Action Figure |
| Toy Series: | Marvel Legends |
| Creator: | fitzjedi |
| Date Added: | January 30, 2013 |
| Base Figure: | WWE Randy Orton |
| Height: | 7.25 inches |
Hey all,

So my friend and fellow customizer Stefan asked me to do this for him. The design is based on the Arkham Asylum version of Mr. Freeze in the criminal files that you unlcok in that game. A far cry different than his ultimate appearance in the Arkham City game, but Stefan is a fan of the older style Freeze, and he's happy with it.

It took a long time due to the sculpting and my not-so-stable schedule of late at work, and was a lot of work itself. The base figure gave me some grief midway through, but I finished it to his Specifications.

The entire upper torso was scultped with Aves to get the look of the armor, which is like an old-style deep-sea diver suit. The helmet was plastic a cap from a hair product bottle, that I cut to fit over his shoulders. Next, I sculpted out the crevice that the helmet would fit into, so it would actually slip over his head, and into a sculpted lip that holds it in place. I used excess plastic trimmed off the helmet to line the inner sides of the crevice, so that the helmet would slip in tight, but wouldn't get stuck in there, sculpt against sculpt. It was a WHOLE LOT of detailed work, but I really wanted a removable helmet that would stay in place--even if I held him upside down. I think turned out great.

His shoulder armor is sculpt on top of the wrestler knee pads that I trimmed to shape. I glued peices of strap to the figures shoulder before sculpting the armor over it, and then glued the shoulder pieces to that. Doing it that way allows the arm to be moved and the shoulder armor to 'give' a bit more than normal. I got the idea from the Iron Man figures that the shoulder armor pieces attach onto the shoulder allowing more movement range.

His freeze tank is a drop bottle with the top cut off and sculpted over smooth. I added a HALO 3 grenade to it (glued then sculpted over), and attached bendable craft wire into it that trails into his weapon. The wepons was a fodder gun that I glued a split in half IRON MAN figure dart launcher to either side of, then scultped some. The added beauty of the bendy wire is that you can hook the gun to thehose and tank and the wire holds it in place. It looks like it's supposed to connect there!

The hoses were from an DCUC MR. Freeze cut and shaped. The rest of the details on the armor, legs, belt wrists, boots was all sculpted. His buckle is from a plastic chain from an MU figure.