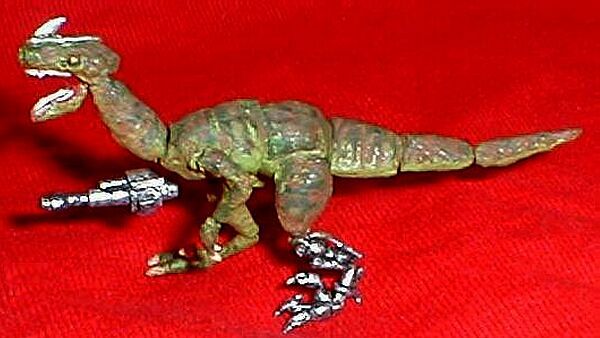 | | |
| --- | --- |
| Custom #: | 46830 |
| Name: | Raptor Mech |
| Custom Type: | Action Figure |
| Toy Series: | Turok |
| Creator: | Patraw |
| Date Added: | February 4, 2013 |
| Base Figure: | Modeled from scratch |
| Height: | 1.60 inches |
| Completion Time: | 10.00 hours |
| Articulation: | 20 points |
Cybernetically-enhanced reptiles that can be encountered in levels seven and eight of Acclaim's 1997 Turok: Dinosaur Hunter First Person Shooter (FPS) Nintendo 64 video game.

While velociraptors are ferocious and efficient predators, they are no match for Turok when he's packing a firearm, simply because he can easily pick them off with projectiles before they can get close enough to inflict any injuries with their teeth or claws. Frustrated with this shortcoming, the ever-resourceful Campaigner decided to augment some of his dinosaur pets. A Raptor Mech has had the lower portion of its right arm surgically replaced with a plasma rifle. The controls for the weapon's firing mechanism are then wired directly into the velociraptor's nervous system so that it can be activated by thought alone. One, or both, of the lower legs are also swapped out for metal constructs, improving the strength/durability of the limb and the effectiveness of the talons in melee combat. Finally, a horned cerebral implant, running the length of the forehead, increases the creature's intelligence, making it capable of comprehending simple tactics and commands. Fortunately for Turok, the process of enhancing dinosaurs with bionics is a time-consuming and dangerous venture, so, the majority of the velociraptors that he encounters in the Lost Land will be of the normal variety.

Despite their upgrades and extensive training, Raptor Mechs still aren't entirely reliable in combat situations. At close range, especially when excited by the smell of fresh blood, the reptile tends to ignore the fact that it now has a gun and reverts back to its natural instincts, administering savage bites or pouncing on its prey, eviscerating the target with its razor-sharp talons. While raptors never fight amongst themselves, they are notorious for "forgetting" who their human comrades are and attacking the Campaigner's soldiers at the most inopportune moments, particularly if one of them angers the dinosaur by accidentally clipping it with stray fire.



Materials:
Newsprint, lined notebook paper, tissue paper, wire twist ties, white glue, and acrylic paint.

Dimensions*:
7.0 cm / 2.8 in. x 4.0 cm / 1.6 in. (widest point x highest point)
(*The measurements will vary depending on how the figure's joints are positioned; the numbers given are for a neutral standing pose.)

Articulation:
20 Points: Jaw, neck (2), mid-torso, shoulders (2), elbows (2), wrist, hips (2), knees (2), ankles (2), toes (2), and tail (3).

Time:
Two days; January 30 and 31, 2013.