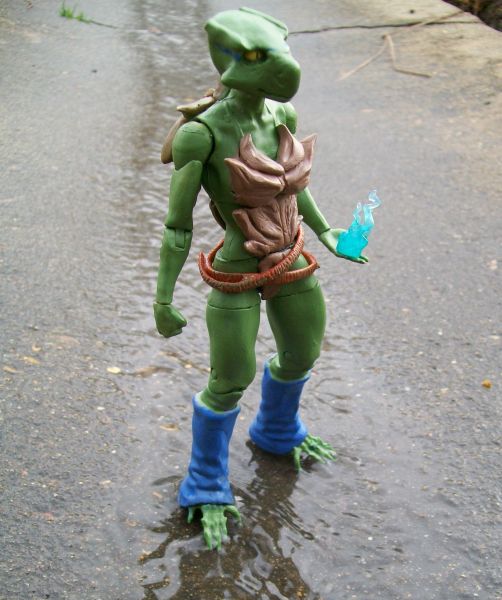 So in my attempt to try and give some kind of decent characterization to the much loathed fifth, female Turtle, best known as Venus I decided to introduce her into my 6/7 inch figure line with an all-new origin.

Deep in the Florida swamps a Temple was discovered by the Turtle allies, the Punk Frogs. Napoleon Bonafrog and Rasputin the Mad Frog decided to enter into the strange structure. What they found inside was something they couldn't explain. Strange words and signs were covering the walls that followed along a long stairwell. At the end of the stairwell was several destroyed statues, and one in the center of the room stood whole. The figure was one that they recognized, as the two Frog brothers contacted the Mutant Foundation. Donatello, Michelangelo and Leonardo (deciding to join his brothers from his own exile) met with the Frogs and followed them into the Temple, where they found a statue that looked like a human-esque Turtle. As they approached the statue it began to glow and a flesh and blood figure stood before them…a female voice came from the figure speaking unintelligible words. When the Turtles responded in English the female Turtle touched Donatello's face, closing her eyes a light glow covered the Mutant Turtle.

Female Turtle: My name is Venus…as the ancients called me.
Donatello: You speak English?
Venus: I speak the language of those I hear…
Donatello: How?
Venus: Magic.

She went on to explain her abilities, and explained that she was a member of the Turtle-Dragon Clan, one of the many Dragon Tribes that once called this land home. Her kin had been transformed to stone, as had the other Tribes, awaiting a time to be awoken again.

There definitely is a lot more of a story here, eventually tying into the rise of the Dragon-Lord and his tribe in New York, but that gives a foundation…named for an ancient deity, her broken English cames from it being a learned language, here ability to use chi-fire as a weapon (though significantly weaker than the past, due to the fact the entire Turtle-Dragon Clan was gone).

Anyways this figure was made from a WWE female wrestler, paint/Apoxie added for color, shell and plastron, and the head once belonged to a Green Goblin, fully sculpted over.