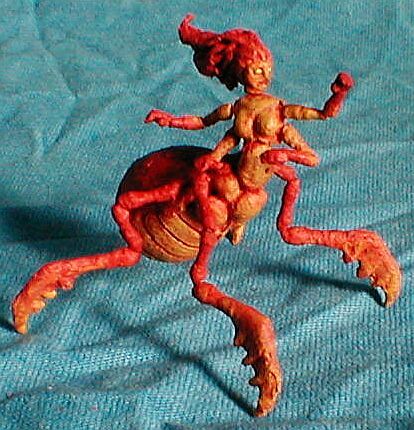 | | |
| --- | --- |
| Custom #: | 47046 |
| Name: | Arachne |
| Contest: | Alienated Anatomy |
| Custom Type: | Action Figure |
| Toy Series: | Misc |
| Creator: | Patraw |
| Date Added: | February 11, 2013 |
| Base Figure: | Modeled from scratch |
| Height: | 1.90 inches |
| Completion Time: | 14.00 hours |
| Articulation: | 27 points |
Fiery spider-women that can be encountered in Agetec's and From Software's 2000 Evergrace Sony Playstation 2 video game. They normally inhabit the lava-strewn Abandoned Road region, but they can also be found on the third level of the Shadow Tower optional bonus dungeon. The creature gets its title from the master weaver of the same name who was transformed into a spider, as punishment for her arrogance, by the goddess Pallas Athena in Greco-Roman mythology (Arachne is Greek for "spider", from which the word "arachnid" is derived).

Arachnes attack with swipes from their serrated forelegs or by exhaling plumes of incinerating flames. Given their appearance, ability to breath fire, and choice of habitat, it should come as no surprise that Arachnes are highly resistant to extreme heat. Indeed, it is common to see them skittering about, completely unharmed, on the surface of lakes of molten lava.

Arachnes reproduce asexually at an astonishing rate. At any given time, her bloated abdomen is usually filled with several tiny duplicates of herself which immediately spring forth and attack when the adult Arachne is slain. Fortunately, her diminutive daughters are quite fragile and easily dispatched.

*****

This figure was modeled completely from scratch over a period of three days (roughly 14 hours of work total) and finished with acrylic paint. She has twenty-seven points of articulation: Neck, shoulders x 4, elbows x 4, wrists x 4, mid-torso, waist, and spider legs x 12 (3 each). Being half spider and half woman, she most definitely qualifies as having inhuman anatomy for this challenge (maybe she's the abandoned love child of Shelob and The Human Torch). I didn't feel it was necessary to censor her chest in my entry photos because (1) she doesn't have any nipples, and (2) her entire body is supposed to be made out of lava/magma, not flesh [Evergrace is rated "T" for Teen (13+), and only for animated violence at that, so the ESRB didn't have any concerns with her appearance either]. Arachne is a character that's been on my "to make" list for some time, and this contest was the stimulus that finally helped make her a reality.