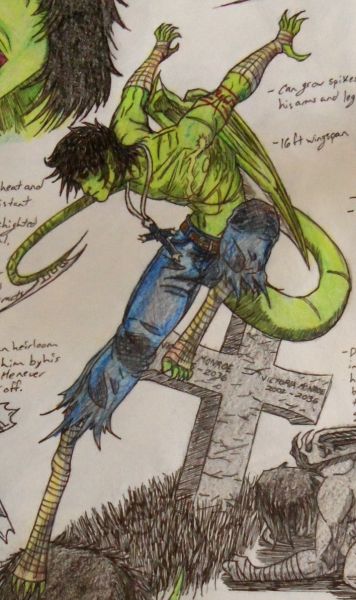 | | |
| --- | --- |
| Custom #: | 47119 |
| Name: | The Mutation |
| Custom Type: | Action Figure |
| Toy Series: | Original |
| Creator: | Mutation92 |
| Date Added: | February 13, 2013 |
| Base Figure: | marvel universe spiderman |
| Height: | 4.00 inches |
| Articulation: | 26 points |
i wanted to do something special. but couldn't figure out who to put on. i completely redid dr.octopus, and fully sculpted a marvel now captain america. but i decided to put on one of my own characters. mutation was my first character, and no matter the horrors i come up for him, he always pulls through for me. as of right now he's done cause i can't figure out how to do his wings, but eventually i want a ton of accessories. so plan on seeing him again.
for the purposes of my universe i altered events and certain landscapes on earth so don't try to find some of the locations i talk about.
mutation was born in a valley cut off from the rest of the world. he was born to the upperclass family that ruled the valley and were direct descendants descendants of Tetrad, the man who originally found the valley. Mutation's father was a sociopath, who held the villagers in a constant grip of fear. the generations of villagers had forgotten of such things like an outside world. and victor used that to his advantage. in the outside world victor monroe was still a very influential man, yes he knew of the world, vain, arrogant and boisterous, he was a member of the board of directors of Zeron industries, the company who made huge strides by secretly experimenting on infeds.(my worlds mutants.) needless to say victor deserved what he got...with his father never around Derek monroe walked with the villagers, he found ways to occupy his time and the community was his family. the villagers were careful never to talk about the monroes while derick was there. their servants had a daughter that had grown up with derek and the two grew close. on his 16th birthday derek told his parents and his father was furious, flirting with the hired help!
the villagers were shocked when a homeless traveler stumbled through their woods,he was an outcast from society, a metahuman who lost everything. the villagers offered a proposal, they didn't care about his powers, he could live there if he killed victor monroe.
derek had went outside to cool off, it was still his birthday after all, and his parents couldn't keep him from jessica. he went inside to find that metahuman, killing his parents. he had stabbed victor in the back, and was finishing off dereks mother with his bio electricity. he flayed the flesh from her bones and melted her jewelry to them. the pure mixture of feelings caused derek's latent abilities to burst from him. claws, wings, tail, scales, in a bloody mess derek was transformed forever. his main ability is to cause rapid bone growth and deterioration in his body. he ripped the murderer to shreds, but not before he could find the servant's corps' in the other room. jessica in a mangled heap. all he could say for it was "the villagers made me do it" he flew out the door towards the square. the villagers were all waiting for news. when from the sky falls the metahuman's head.
derek blacked out and didn't wake till morning. but it was painfully obvious what he had done. human remains lay strewn throughout the valley. no one was spared. derek had lost everything. looking in the water, he found that derek was dead too. he never made it out of that house. this... abomination, this Mutation... had killed everyone. he chose to live in the valley, in mourning so no one could be hurt...ever...again....
sooo, sorry about the long writing...i can't say i won't do it again. and then i don't have too good of a custom to back it up. but this will be updated, believe me.
recipe, upperbody is a marvel universe spiderman with a head from steve rogers and a neck from namor. the lower body is from a battlefield captain america, with toothpicks and sculpt for the feet. the tail is armature wire with sculpt, the hair is sculpt, all scars are carved in, and the bandages are masking tape.

update, switched his head with a carved down movie thor with more sculpted hair.