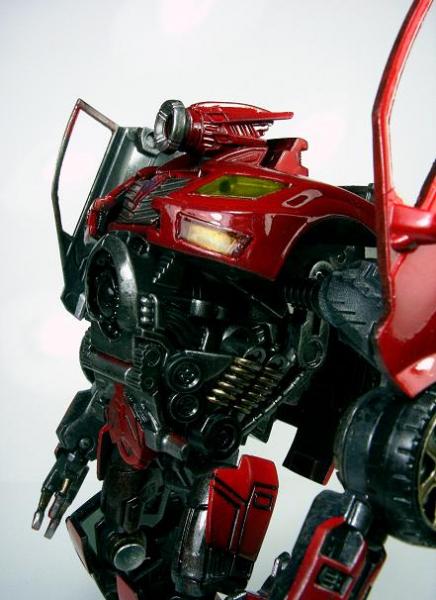 Swindle is the name of a Decepticon who appeared in the toy line and video game tie-ins for the 2007 live action Transformers movie, though not in the movie itself. He turns into a red sports coupe that resembles a Chevrolet Cobalt. Swindle's tech spec describes him that he's not a great fighter, but still takes pleasure in making trouble for the Autobots. He wields an extending torso cannon. Swindle has the exceptional number 1 on his tech spec intelligence, but a 9 on his fireblast!

In Transformers: The Game, Swindle appears as standard-class drones for the Autobot & Decepticon armies. Autobot versions have eyes with a mask, & their primary color is green. Decepticon versions have a lens-head & their color is a dark red.

Swindle appears as the Decepticon who tortures Bumblebee to learn the location of the Allspark Cube in the first issue of the Transformers: The Movie Prequel.

Parts:

I didn't just repaint him, but I also made a few modifications. Hands made from scratch with the help of Aves Apoxie Sculpt(Suggested by Mr. Jin Saotome), feet also made from scratch. Added articulation to his knees and neck. Joints for his knees were also salvaged from the Deluxe Barricade TF action figure.The neck, Ah yes the neck! I had to actually sneak in my old engineering class to make a ball joint out of aluminum scrap (Using a metal lathe). Wheels again taken from Movie Deluxe Barricade TF figure. Head lights and signal light were made from scratch, using the clear platic cover that came with the toy box.

Paint:

I've been asked few times what type of paint I use. Well I will tell you guys that Testor Acrylics are the best, even Mr. Saotome said so, but yes I used basic Testors colors, Red, Semi-Gloss Black, Flat black, Dark Bronze, Bronze, Aluminum Silver, Silver, Clear yellow for the head lights, Clear Orange for the signal lights.