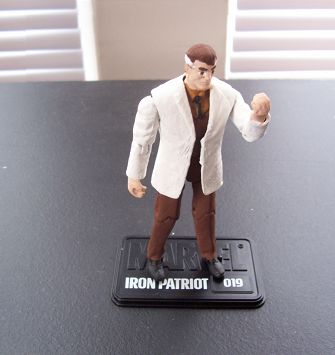 Dr. Victor Falco is one of the villains of the new Nickelodeon Teenage Mutant Ninja Turtles series (which, by the way, is totally awesome and I highly recommend it). Don and April go to investigate a missing scientist named Dr. Tyler Rockwell, thinking that he'd been kidnapped by The Kraang, like April's dad had been. Falco, Rockwell's partner, was the one that reported him missing, so he was their number one source. He said that he and Rockwell had been experimenting on monkeys with mutagen, and that one had broken free and that Rockwell had gone missing. The monkey, now with psychic powers, ambushes Don and April. Little did they know, the monkey WAS Rockwell, and Falco was the one that turned him into that. Not only that, Falco was injecting himself with the mutagen - giving himself psychic powers, and the ability to predict the Turtles' moves.

Some time later, whilst experimenting with rats, a fire broke out the chemical compound spilled, burning and disfiguring Falco, as well as making his psychic abilities adapt to controlling the rats... thus, creating THE RAT KING.

This figure obviously represents his pre-Rat King form. He's made with an Agent J body, and a Reed Richards head.