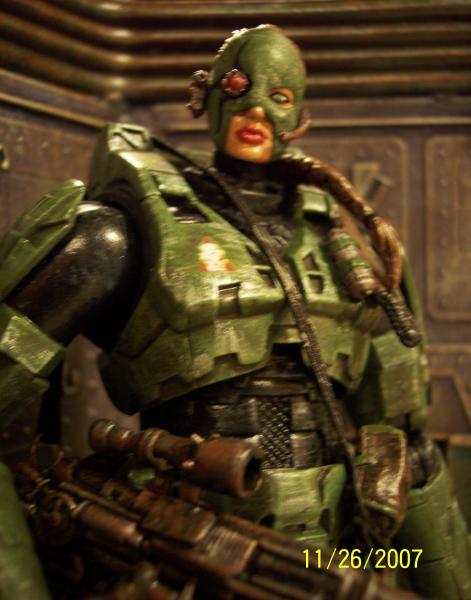 | | |
| --- | --- |
| Custom #: | 4984 |
| Name: | Codename: Striker - Female Spartan 1st Termination Squad Yellow 2nd Seat |
| Contest: | Cosmic Creatures |
| Custom Type: | Action Figure |
| Toy Series: | Halo |
| Creator: | Wyldside2304 |
| Date Added: | November 26, 2007 |
| Base Figure: | Steel/Grey Spartan |
| Height: | 8.00 inches |
Ok, who has kicked more alien butt in the past few years than anyone else out there? That's right folks……Halos Master Chief/ Spartan. I had just started this figure when this contest was announced so I figured I'd enter. This figure started out as a Halo 2 Steel Spartan that I was going to simply repaint into a Master Chief since the Chief is hard to find and they cost too much to buy online. Well, when I decided to enter the contest I thought that a repaint wasn't enough since this is a CUSTOM contest. Sooo…..I decided to make an unmasked Spartan…….a unmasked female Spartan. I was thinking that it would be possible for the Spartan armor to be a unisex armor and after watching The Codex, I was right.

The figure is a Steel Spartan that has been completely repainted. The neck has been removed with the torso dremeled out. The collar at the base of the neck is from a ML1 Iron-Man fig. The neck is from a Cyber Unit Spawn figure that was trimmed and apoxied in place. The head is from a Lora Croft Tomb Raider 2 figure. The face mask was sculpted using apoxie sculpt. I decided that I wanted better hand movement, so I replaced the original hands with those from a ML Bishop figure. The backpack is from a SW Republic Commando figure. The gun is from the Commando Spawn figure that has been modded with the grip, trigger, and trigger guard from the ML Bishop rifle. The left ear piece is from a SOTA Cammy figure with the lense removed. The right ear piece is from a Commando Spawn. The right eye is a sword hilt from the Spawn Locust figure. The helmet has been dremeled out to fit over the head, and I have added a harness on the left hip to support the helmet when not in use. The decals are from the Warhammer 40k transfer sheets. I have also added other pouches and bits from other lines.

The base for the figure was also custom made just for this figure.

Hope everyone enjoys and good luck to the other contest entries.


BACKSTORY:

UNITED NATIONS SPACE COMMAND:


Name: Striker, Vanessa D.
Rank: First Lt.
Code Name: Striker
D.O.B: 09/23/2528
Unit: Spartan 1st Termination Squad Yellow, 2nd Seat ________________________________________________________________________

Vanessa, born only a few yrs after the loss of Harvest and the Outer Colonies, was forged in the heat of battle. Born to a Space Marine, she learned early on what it was like in the military, especially in the troubled times that she was born into. Her mother was also of military personnel, and one of the most brilliant counter strategists in the U.N.S.C. Even though she was killed in a surprise Covenant attack when Vanessa was only 3 yrs old, she seems to have inherited her mother's sharpness.

She graduated the U.N.S.C. Academy at the age of 19 taking with her the highest marks 2nd only to her mothers. After graduating, she enlisted into the Spartan program were she quickly made a name for herself as a strategist and a fierce warrior. She is considered an expert in hand to hand combat, and all U.N.S.C. fire arms. She has also undergone several cybernetic enhancements to further her abilities on the battle field. Pair all this with her brilliant mind, and it was no wonder that she was hand picked for the Termination Units feared Yellow Squad were she now holds the 2nd seat position.
________________________________________________________________________

Excerpts From the Files Of:
U.N.S.C. Board 1st Seat- General Striker, William J.