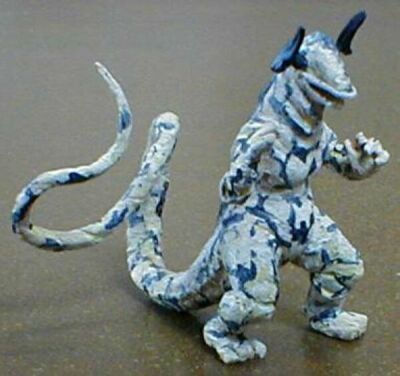 A powerful Houden Ryuu (Electrical Discharge Dragon) that first appeared, during Episode 3: "The Secret of the Lake", in Tsuburaya Production Company's 1967-68 Ultra Seven television program (which was the follow-up to the original 1966-67 Ultraman show). Despite his death at the end of said episode, Eleking [Japanese: Erekingu (エレキング)] proved to be a popular monster in the franchise and returned for more action in several of the subsequent Ultra television series (including a stint as an adorable, pint-sized "Baby Eleking" in Ultraman Max).

Eleking has a number of powers, most of which, unsurprisingly, are electrical in nature. While the monster can punch and kick, he prefers to attack with his long, prehensile tail in close quarters combat. Indeed, Eleking's favorite tactic it to wrap said appendage around his opponent, and then constrict them with it while pumping millions of volts of direct current electricity into their body. He can also vomit arrowhead-shaped electrical blasts from his mouth, which, in addition to shocking the target, also tend to burst into flames on impact. Lastly, Eleking's constantly rotating radar-like horns have the effect of jamming communications devices, causing electronics in his immediate vicinity to malfunction or cease working altogether. Fully grown, Eleking stands approximately 51 meters (167') tall and weighs 25,000 tons.

Eleking was originally brought to Earth, in the form of a small tadpole, by the insectoid Pitt sisters, who planned to use the monster to conquer the planet. Tipped off by a fisherman who witnessed one of the Pitt twins (disguised as a young human girl) dumping the strange tadpole into a lake, Dan Moroboshi (the human guise of Ultra Seven), and two of his fellow Ultra Garrison members, followed her back to a UFO, but the men were ambushed by the other Pitt sister who knocked them unconscious with gas and stole Dan's Ultra Eye glasses, fully aware that it was impossible for Dan to transform into his Ultra Seven form without them. Confident that their plans could not be thwarted by Earth's greatest hero, the sisters used their technology to cause Eleking to rapidly evolve into his gigantic true state. Helpless to harm this towering foe, Dan unleashed one of his capsule monsters, Miclas, in the hopes of keeping Eleking busy while he desperately tried to recover his stolen property. While he did his best, Miclas proved to be no match for Eleking, but, fortunately, during their tussle, Dan was able to regain entry into the Pitt starcraft and get his glasses back. Quickly transforming into Ultra Seven and growing in size to match Eleking, he then took up the fight against the raging electrical titan where Miclas left off. While Eleking successfully entangled Dan in his electrocuting tail grip, Ultra Seven was able to use his incredible strength to break free of the deathtrap and retaliate. First, he destroyed Eleking's jamming horns with his Emelium Ray, and then he decapitated the monster with his Eye Slugger helmet crest. Finally, he finished off the alien Pitt by blasting their ship to smithereens, ending their attempt at world domination.

This Eleking figure was modeled completely from scratch, over a period of three days, and painted with acrylics. It's a static figurine without any articulation.