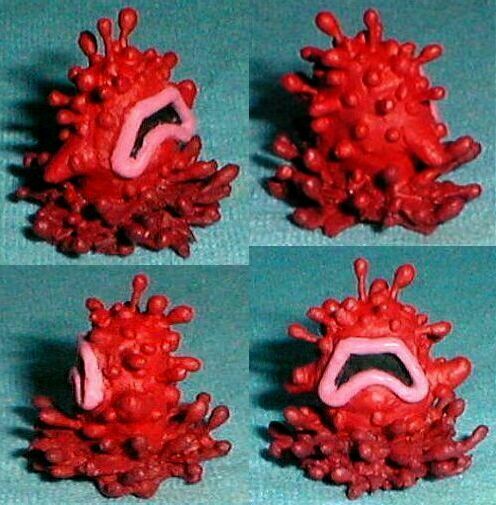 SPITBALL BLOB

Gooey abominations that can be found in Nintendo's 1991 Kid Icarus: Of Myths and Monsters Gameboy video game. Spitball Blobs are very similar, both in appearance and behavior, to the McGoo enemies found in the original 1986/1987 Kid Icarus: Angel Land Story Nintendo Entertainment System (NES) adventure.

A Spitball Blob dwells within porous stone, its watery body filling the tiny fissures and pockets inside the rock. While concealed in this manner, the monster's presence cannot be detected by any conventional means, as such, they are extremely effective ambush predators. When anyone, or anything, treads upon its hiding place, the resulting vibrations stimulate the creature into action: the Spitball Blob bubbles to the surface in the blink of an eye, often right below its unfortunate prey's feet, and immediately attacks. If the target manages to elude the Spitball Blob's initial assault, whether through sheer luck or quick reflexes, the gelatinous killer can still strike, from a considerable distance, by vomiting up a ball of acidic mucus. Should this slimy projectile successfully bring down the intended victim, the monster moves in to feed, if not, it seeps back into the stone again to await another opportunity. While mostly solitary in nature (they reproduce asexually via fission), in areas that are particularly abundant with prey, it is not unusual for several Spitball Blobs to live in close proximity to one another, or even share the same rock.


NEO KAITONIA

Strange, luminous flora that can be randomly encountered in Sega's 1989/1990 Phantasy Star II Sega Genesis roleplaying video game. Said title has also been ported to many other consoles, often as a selection on various Sega compilations. Phantasy Star II was also completely revamped for the Japanese Sony Playstation 2 Sega Ages 2500 budget line of games in 2005, where it was the seventeenth release and bears the modified name Phantasy Star Generation 2.

The monsters Forest, Glowstick, and Neo Kaitonia all share the same game sprite; they differ only in hue and statistics. In earlier translations of Phantasy Star II, Neo Kaitonia bore the moniker "Kite Dragon" (shortened to "Kitedrgn", as names were limited to eight characters). The Japanese phonetic katakana spelling for the English word "kite" is "kaito" (カイト), so I can understand where the first portion of that Kite Dragon title originated. In comparison, the names for the Forest and Glowstick creatures have remained consistent over the years, other than the truncating of "Glowstick" to "Glowstik", which, again, was due to text constraints. Part of me would like to believe that Kite Dragon is an intentional reference to the evil tree that was always devouring Charlie Brown's kites in the Peanuts comic strip, but that's admittedly pretty far-fetched.

Although this monstrous flora is permanently rooted in place, the Neo Kaitonia's immobility does little to hamper its lethal effectiveness. By channeling and focusing the energy pulsating in its many globular cysts, the plant can launch a giant ball of plasma from the center of its trunk, which arcs high into the air, much like a flare, before raining down on its foes with devastating results. While a Neo Kaitonia can accurately strike targets up to 30.5 meters (100') away, the plant generally waits until its intended prey is much closer, so that its extensive root system can take advantage of the nutrients that seep into the soil as the corpse of the victim(s) decomposes. Scavengers attracted by the smell of rotting flesh soon join the pile, as does anyone foolish enough to try to remove said bodies for burial. One would think that the blasted earth and heaps of bones radiating outward from the spot where a Neo Kaitonian grows would be sufficient warning, but, alas, the scintillating lights produced by the plant's cysts, which can be seen for miles at night, have a hypnotizing effect on any organism that stares at them for too long, compelling the watcher to draw ever closer...


Both of these figures were modeled from scratch in two days (each) and finished with acrylic paint. Neither has any articulation.