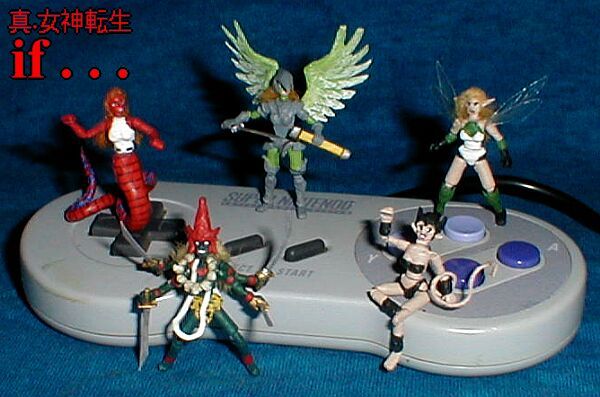 All five of these mythical women appear in Atlus' 1994 Super Famicom (the Japanese name for the Super Nintendo Entertainment System) RPG Shin Megami Tensei if... (Reincarnation of the True Goddess if...) Said title was never published outside of Japan. The main "hook" of the Megami Tensei series is that you can potentially recruit most of the monsters in the game into your party, either by negotiating with them during battle, or, by fusing 2-3 other creatures together. So, you could theoretically have any of these five women in your party, the only limitation being the experience levels of your two human characters (you can't have an entity in your party who's level exceeds theirs, simply because they wouldn't be strong enough to control it--humans are lame like that). Almost all of the creatures in the game are drawn from real world religion/mythology, which is what appeals to me--what other RPG series let's you have crazy combinations like the Norse god Odin, Stephen King's Christine (the car), the Christian archangel Michael, and H.P. Lovecraft's Cthulhu as playable characters?

My original intent was to make a Shin Megami Tensei Build-A-Figure wave consisting of nothing but female characters, but, that obviously didn't come to fruition (I ran out of both time and enthusiasm). If you're curious as to what the BAF would have been, I was leaning towards Bushyasta, the Zoroastrian goddess of Sloth, or Serket, the Egyptian scorpion goddess. I probably would have made one more regular figure as well, simply because BAF waves usually consist of six characters, which would likely have been Kuchisake Onna (Slit-mouthed Woman), a Japanese urban legend with a mutilated smile that makes the Heath Ledger Joker look tame by comparison.

All five of these action figures were made completely from scratch, using the same base figure template, and then modified as necessary. I decided to try out carpet fibers for hair this time around, on everyone but the Alp, which worked out pretty well. Altogether, it took me nine days to make these, with the individual figures taking 1-3 days each, depending on their complexity.


Alp (a variation of the word "Elf")
Alignment: True Neutral
Clan: Yama (Night Spirits)
Experience Level: 10
Articulation: 13 points
Accessories: None
- Alps are creatures from Germanic folklore that are kind of a cross between a vampire and an incubus (unlike the game's version, Alps are traditionally male, not female). They prey upon women at night, creating and manipulating nightmares and drinking blood/milk from their victim's nipples. Alps are also one of the creatures that used to get the blame for the condition that we now know as Sleep Paralysis (waking up at night, temporarily unable to move, with the sensation of something heavy lying on you or sitting on your chest).

Gorgon ("Terrible/Dreadful")
Alignment: Chaotic Neutral
Clan: Kijo (Demonesses)
Experience Level: 40
Articulation: 6 points
Accessories: None
- A Greek trio of snake-like sisters (Stheno, Euryale, and Medusa) that were so horrible to look upon that they could turn flesh to stone.

Kali ("The Black/Dark One")
Alignment: Chaotic Good
Clan: Jiboshin (Earth Mother Goddesses)
Experience Level: 74
Articulation: 16 points
Accessories: Four swords
- A wrathful incarnation of the Hindu goddess Parvati, representing change, time, and death. Consort of the god Shiva.

Morrigan ("Phantom/Great Queen")
Alignment: Lawful Neutral
Clan: Youchou (Legendary Birds)
Experience Level: 42
Articulation: 14 points
Accessories: Sword and sheath
- An Irish goddess of battle, strife, and sovereignty. Sometimes depicted as a single deity, at other times as a trinity (Babd, Macha, and Nemain/Anand, although the names vary). The Morrigan can shapeshift into a variety of forms, but is best known for changing into a crow, hence the wings and her affiliation with the Youchou Clan in the game.

Sylph
Alignment: Neutral Good
Clan: Seirei (Elementals)
Experience Level: 24
Articulation: 14 points
Accessories: None
- A creature from alchemic tradition. In Western alchemy, it was often thought that specific creatures were closely associated with each of the four elements (Sylphs for air, Gnomes for earth, Salamanders for fire, and Undines for water). Originally, Sylphs were described as invisible entities, but, in modern fantasy, they're typically depicted as fairy-like.