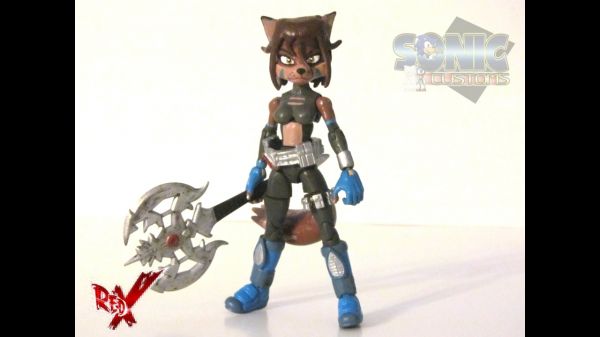 | | |
| --- | --- |
| Custom #: | 51497 |
| Name: | Project: Titan "Silverknight" |
| Custom Type: | Action Figure |
| Toy Series: | Sonic |
| Creator: | RedX Power |
| Date Added: | July 6, 2013 |
| Base Figure: | Tails (Jazwares), Psylocke (Marvel Universe) |
| Height: | 4.50 inches |
| Articulation: | 21 points |
Created and character own by, RedX Power


Mikeela "Titan" Silverknight has no clear memory of a childhood. It is believed that she was handicapped by some tragic accident in her past, leaving her brain damaged and missing both her right arm and the lower half of her leg. The only thing she can truly remember was the day she awoke to notice she had third degree burns across the right half of her body. She was shackled down completely in chains, bleeding uncontrollably; and was being dragged across the hot sands of the dead world by the silhouette of a huge creature with six glowing eyes. She was imprisoned soon after and left to die alone in a pit as food to the Darkness. The rest of her story...is dormant. Upon being saved by a group of Freedom Fighters codenamed, Storm, she was rushed into medical attention; and was saved by an immediate transplant of her failing organs and missing limbs with temporarily robotic replacements.
Years after recovering both physically and mentally, Silverknight would go on to claim new limbs with the help of Professor Mile's earliest cloning prototype. With a new life and codename at hand, Silverknight would soon join team Storm in their war against the invading Darkness that has overtaken earth for decades. During the climax of the war, what seemed to be a loss for the last remaining civilization on earth, became the start of new things to come. The Darkness was defeated with the sacrifice of Arson City, home to the earth's survivors of the previous apocalyptic war. In the blaze of the aftermath, Silverknight would lose June, a weapon specialist that she befriend during her time with team Storm...to the Darkness. Now able to control the use of the dangerous Chaos Warp, Silverknight would soon afterwards be given a new assignment by, team Storms leader, Ashley Hedgehog. Little does she realize it would be one mission that if the events of the past are not changed for the better, due to ONE fatal mistake they made...could lead the timeline's future into a No Tomorrow. Armed with her deadly axe and few medical kits, her mission is was made very clear...ELIMINATE Doctor Robotnik; and avoid contact with anyone present, including the Freedom Fighters...and especially the one called, Sonic the Hedgehog!


More info on Project: Titan, step-by-step creation can be found on her official SONIC: Customs video page on my youtube channel.