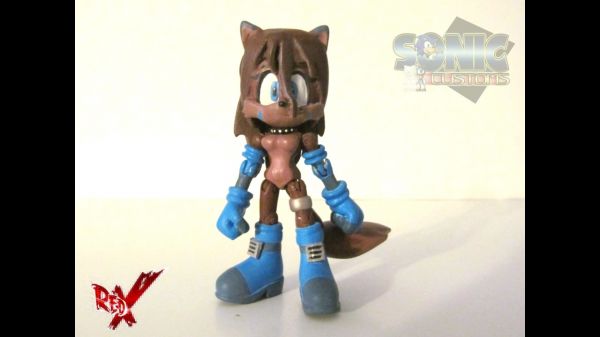 | | |
| --- | --- |
| Custom #: | 51512 |
| Name: | Project: Sapphire "Kaylee Silverknight" |
| Custom Type: | Action Figure |
| Toy Series: | Sonic |
| Creator: | RedX Power |
| Date Added: | July 7, 2013 |
| Base Figure: | Tails, Amy Rose, Wave (Jazwares) |
| Height: | 3.20 inches |
| Articulation: | 15 points |
Created and character own by, RedX Power.


With the climatic end to Dr. EGGMAN's Project: Exodus, a new breed of terror has been unleashed from underneath the earth's surface; and one life freed from the Darkness wants to help Sonic and his friends bring an end to this dreadful entity before all Hell rises...again.


Sapphire's Story/Dark Tomorrow Bio:
Held prisoner for what is believed centuries, Kaylee "Sapphire" Silverknight was able claw free from the dark clutches of the underworld with the re-awakening of, Vile the Darkness. Her past may a blur; but all is not forgotten. One thing that she can truly remember before her imprisonment days, was her happy life alongside her brother, the rest...is a total nightmare emerging from underneath the surface of her dark memories...

Centuries ago, Kaylee lived a happy and peaceful life among her older brother, Kalve in a quiet little town, below the highest mountains peeks of the world called, Oka Village. Sadly a dark storm was about to emerge from all the calmness that was brought upon their prosperity. Vile, a monster from another time, sentenced into exile, yet somehow escaped it's hollow prison walls, struck a blaze to the village in the dead of night, killing many of the town's young and old; or turning them into it's Dark Void puppets. As the dark one spread it's chaos throughout the village, Kaylee would lose her brother to the hands of Vile, to which it would corrupt his mind, body, and soul into Darkness. As she attempted to run away in fear for her own life, Calve, now Cringe the Darkness, was able to capture her; and bring her directly to Vile, personally. Seeing her as no complete threat to his evil plans, Vile had the poor child sentenced to watch her village burn to ashes; then she would be imprisoned into slavery for all eternity. Overtime, many of the survivors of the dreadful night would ban together, yet fall in an attempt to reclaim their lost home and loved ones from the evil demon and it's army of mindless monsters. When all hope was lost, in the time of great need, a presence of light shined thru the Dark; and magically sealed the nightmare and it's minions away using seven stones of great, and mysterious power. Once the Darkness was defeated and life had been restored upon the world, the mysterious entity of great wonders had then faded away into the sunrise that shined upon all a sign of hope for recovery and peace once more. The mysterious figure had also left the stones of great power to the people in hopes that one, just like he, would be able to will their magic to seal the evil away for good, that is come the day it should ever be freed from it's containment under the ruins of their fallen civilization. As the day had finally started to roll in...the night was just getting started for one lost soul.
In the process of the hero sealing the demon off from ever returning from the underworld, Vile managed to shackle Kaylee's legs and pull her through the seal to spend eternity, where time doesn't exist in forever darkness.
Shockingly awoken from the cracks of an unusual thunderstorm, Kaylee had found herself back on the surface of the world above, with the chains from her shackles melted off. Finally freed from her imprisonment after many centuries, Kaylee would incidentally run into Sonic the Hedgehog during a crossfire with Dr. EGGMAN's few remaining machines from Project: Exodus. Wiping the last of EGGMAN's goons into rusted metal, Sonic would then escort Kaylee to a safe location where his friends rest at the moment. Though the new chapter in her life is about begin in a crises with what comes next. The two would stumble upon another Silverknight character named, Titan. As Sonic begins to recognize her from before and questions her interference with the launch of Exodus, with no other choice, Titan then announced the assignment that was given to her. It was to prevent Dr. EGGMAN, by any methods necessary from destroying the seal that prevents Vile the Darkness from escaping the underworld. However she was unsuccessful due to Sonic's interruption on board the revived, Death EGG where Exodus once resided.
In the awakening of Vile's return, Kaylee has pleaded to join Sonic in his quest to defeat this Devil-Sonic who held her prisoner. She believes that also in the process he can help her find a way to redeem Kalve's soul from the Darkness within.


The official step-by-step video of this SONIC: Customs entry, can be found on my youtube channel.