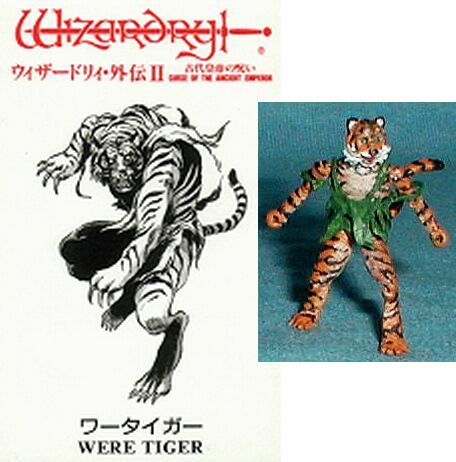 | | |
| --- | --- |
| Custom #: | 51552 |
| Name: | Weretiger |
| Custom Type: | Miniature / Figurine |
| Toy Series: | Wizardry |
| Creator: | Patraw |
| Date Added: | July 8, 2013 |
| Base Figure: | Modeled from scratch |
| Height: | 1.40 inches |
| Articulation: | 13 points |
Deadly human/tiger hybrids that can be randomly encountered in several installments of the Dungeons & Dragons inspired Wizardry roleplaying game (RPG) franchise. In particular, my figure is based on Akiko Ikegami's design from ASCII's 1992 Wizardry Side Story II: Curse of the Ancient Emperor [ウィザードリィ・外伝II: 古代皇帝の呪い (Uiza-dorii Gaiden II: Kodai Koutei no Noroi)] Gameboy video game, which was never published outside of Japan.

Weretigers never wield weapons of any kind, always attacking with the razor-sharp, retractable claws on their forepaws in melee combat [3-13 (2D6+1) damage x 2]. While the jagged wounds that these strikes inflict are bad enough, there is also a chance that the victim may fall into a deep sleep and/or become poisoned as a direct result of the Weretiger's toxic saliva (the creature often licks its paws just prior to attacking, coating the claws with this debilitating substance.) Needless to say, taking an involuntary nap, suffering a continuous loss of hit points, or, even worse, both, in the middle of a battle with a pack of bloodthirsty Weretigers is a recipe for disaster. Despite the potency of their oral secretions, Weretigers never bite (except when feeding). Prizing mobility, they shun all armor, and are never found attired in anything better than shredded rags (the remnants of whatever they were wearing prior to their transformation into bestial form). The Weretiger's hide isn't particularly resistant to injury, but the striped coat does provide some protection from frigid temperatures (they only suffer 1/2 damage from cold-based attacks). A Weretiger's flesh also mends itself with unnatural speed--if hurt, the creature regenerates 1 hit point every round of combat until it's fully healed again or slain. With their feline reflexes, Weretigers can often avoid damage altogether by quickly dodging their opponent's blows; this agility translates to a natural Armor Class of 4.

Unlike normal tigers in the wild, these therianthropes seldom operate alone. Weretigers usually hunt together in small groups [1-8 (1D8) individuals], and it's not unusual to see two, or more, of these packs actively coordinating their efforts (there's a 70% chance of a second Weretiger group accompanying the first). Although less common, human Executioners have also been known to employ enslaved Weretigers as savage henchmen (45% chance). A single Weretiger isn't too much cause for alarm, but, in large numbers, they can easily overwhelm and bring down prey much larger and dangerous than themselves, especially if the beast men manage to sedate or poison the victim(s) during the struggle (which is a highly-probably outcome, given the number of injuries that the unfortunate target will likely sustain from the assaults of multiple Weretigers.) Unless a party of adventurers has the means, magical or otherwise, to incapacitate or kill large numbers of Weretigers quickly, and/or resistance to sleeping and poisoning, they could find themselves in very serious trouble indeed when confronting several of these striped carnivores...


Materials:
Lined white notebook paper, newsprint, white glue, wire twist ties, candy wrapper paper, and acrylic paint.

Dimensions*:
2.5 cm (1.0") x 3.5 cm (1.4") [widest point x highest point]
* The numbers given assume a neutral standing pose; the values will vary depending on how the figure's joints are positioned.

Articulation:
13 Points: Neck, shoulders x 2, elbows x 2, waist, tail, hips x 2, knees x 2, and ankles x 2.

Time:
Three days: July 4-6, 2013.