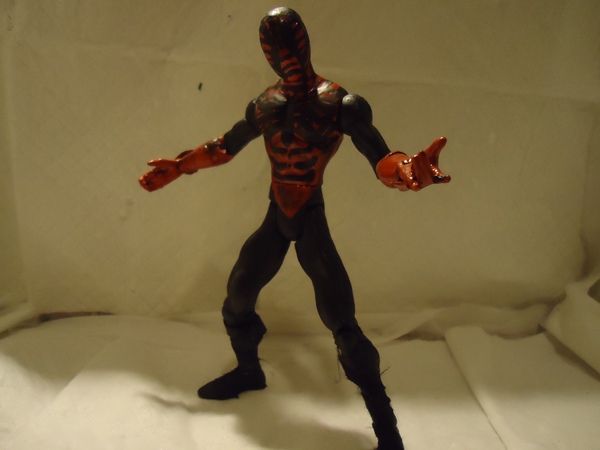 Imagine if you will, a new..darker, take on your friendly neiborhood Spider-Man.

This Version of the web slinger is from Earth One, the first universe to exist in the Multi-Verse. In this Universe Peter Parker is a widower to the late Gwen Stacy, and is father to there children, Ben Parker, and Stacy Parker, Ben being the oldest, and Stacy being born the same night Gwen fractured her neck on the Brooklyn bridge (Gwen was brought to the hospital, and before she died, she gave birth to Stacy)due to Peter's fight with the Goblin, once Harry Osborn. Now Peter has given up the mantle of Spider-Man, and takes care of his two children, as a normal Father would do, but, as he feared, his past as caught up to him, Harry, who he thought was dead, has come back, and wants to take away the only things in his world that matter to him, his children, but Peter will not stand by and let his children be taken by a monster, he will dawn his mask again, and stop the Goblin, Peter Parker will be known again as...

THE RADIOACTIVE SPIDER-MAN!!

Hey everyone, I have taken a leave of absence, but when don't I, just to do a bunch of figures, and then post them. Hope you all liked my back story, and my figure. This concept was drawn by me and my older brother, who luckily for me is a artist, so He gave me some insight on what concepts from the internet that he liked, and we both drew up some designs, and agreed that something like the figure below would look cool, we both wanted to have a design with really cool eyes, that actually looked like a spider, and I loved the black and red out-fit from the 90's, so I combined the two, and got this guy. The main reason I wanted a darker look was because my brother and me both wish that some game studio would give Spider-Man his own Batman: Arkham style game, you know, a dark gritty game, where you get to sling around a awesome fictional New York, I mean come on, who wouldn't want to see Spidey like this in a RockSteady game!?!? But anyway, I hope you guys and gals like my version of the wall crawler!