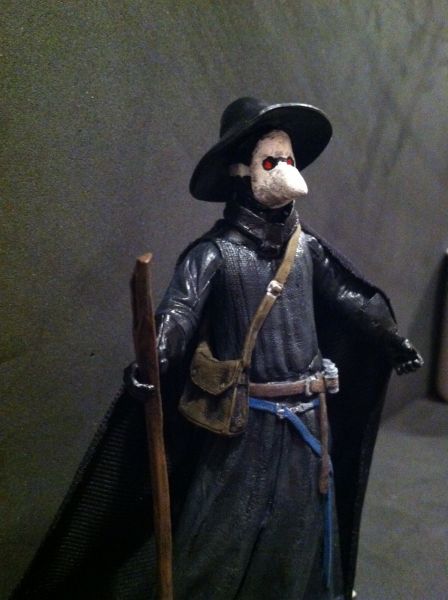 | | |
| --- | --- |
| Custom #: | 52414 |
| Name: | Plague Doctor |
| Custom Type: | Action Figure |
| Toy Series: | Original |
| Creator: | PlasticSurgen88 |
| Date Added: | August 5, 2013 |
| Base Figure: | LOTR Figure |
| Height: | 3.40 inches |
| Completion Time: | 4.00 hours |
| Articulation: | 5 points |
Submitted below is a chapter from a book I'm currently writing called, Journal of a Plague Doctor. While working on it I got a case of writers block, so I decided to make the very figure I was writing about. At the end of the story is the recipe in case you don't want to read. lol But if you do PLEASE let me know what you think of the figure and the chapter. Enjoy!



I awoke with a jolt this morning, excited about the day's event. For some time now I had been secretly working in a hidden garden I had behind my home. My humble garden is encamped roundabout with bushes and shrubs, thus protecting it from intruders. I call it my secret garden not only because it is hidden, but it is also a place where I can be hidden as well. This is the one place I can go outside where I do not have to wear my mask and not be afraid someone will spot me. The one place I can be at peace and enjoy nature face to face with its entire splendor.
As far back as I can remember I have always had a fondness for growing things. To plant the tiny sleeping seeds in the fertile soil, providing them with nourishing water and protecting them whenever needed. Until finally one day your diligent effort is rewarded when the plants blossom into the various fruits and vegetables God intended them to be. Ripe and succulent on the vine, the plants seem to offer their ware to you as a gift in an attempt to repay you for all your hard work helping bring them into the world.
As a small boy I can remember going to visit my grandparents in Edmond Dwike. My grandfather raised sheep and cattle for a living, but what most interested me was his garden and the knack he had for growing things. I can still remember the feeling of the soft, cool dirt between my toes as I walked barefooted, hand-in-hand with my grandfather through the various rows he had planted. As we walked he would point and show me what all was growing in each row. All day we would toil in the field tilling, planting, and watering all that grew there. As the evening would approach, I'd hear the sound of the house door open and see grandmother walking toward us, bringing us our lunch that she had carefully packed in a basket. We'd all sit, under the shade of a giant maple tree, on a blanket grandmother had spread across the lush green grass and enjoy our meal. As we ate, I'd laugh at the tall tales and folklore grandfather would tell of when he was a young child growing up. Grandmother would always smirk and roll her eyes in disbelief as he would tell of all the mischief he would get into.
After days and weeks of careful work the fruits of our labor could finally be seen. Hundreds of tiny stalks would begin to emerge from the quite rows we had made. Each day the stalks would rise higher, as would grandfather's smile as he watched them reach toward the sky. In no time it seemed, I could gaze out his window and the once brown, barren field was transformed into a beautiful green garden. I would run up and down the lush rows amazed at the beauty that I had helped to create. Grandfather and grandmother would walk, hand-in-hand, behind me smiling as they watched my amazement. Grandmother would carry along the same basket she had served us lunch with so many times and used it to help gather the harvest in. Later that night, after we had taken all we could carry from the garden, grandmother would cook all we gathered and we would sit around the table and partake of it. I recall the feeling of satisfaction and happiness we all shared around the table knowing that we had grown what we were consuming. I remember as a boy I couldn't wait until I was an adult so I could have my own garden. Now that I'm a man I have long since wished I could return to the days as a boy visiting my grandparents and tending to the garden. I suppose in a way my small garden serves as a reminder of the warm, fond memories I had growing up there and the wonderful times I had.
Now that I was fully dressed I began my walk toward the door. As I walked by I passed my mask laying on the nightstand. A slow smile made its way across my face as I knew it would not leave the table at all today. Walking toward the door I crept over to the window to make sure no one was around. Luckily, there wasn't a person in sight and this was my chance to escape. I grabbed a basket that was lying on the counter, held it close to my side, and like a thief out the door and around the side of the house I went. I carefully ran, making sure I wasn't spotted, over to the hedges where my special place was. As I crossed through the brush my starving eyes were met with the glorious sight of my work made manifest. I saw carrots, tomatoes, lettuce, and squash all healthy and waiting for my approval. I just stood there in awe at the work I had done. I believe my grandfather would approve of my efforts and grandmother would be proud. As I gathered my harvest I rejoiced at the various sights my eyes beheld.
Once I finished I gathered my bushel and turned to retreat out the way I came in. In mid-step out of the hedge my eyes locked on to the sight of someone on the gravel path. I leapt back in and peered out in utter bewilderment and embarrassment at the thought of someone catching me without my mask. As I looked on I noticed the person was the same brown-eyed girl that had helped me yesterday. She just sat where she was the day before when we first met, playing with the same rag doll in the dirt. I noticed she kept looking around as if trying to spot someone. In the back of my mind I wondered if it were me she was looking for. I waited patiently until her attention was diverted elsewhere then as fast as I came I left and made a mad dash through my front door.
Now safely back in my home I stopped and looked through the window to see if she had noticed me run by. To my relief she had not, but instead she kept right on playing with her rag doll. As the question I had asked myself in the garden repeated itself over and over in my mind my curiosity became perked. I decided to take a chance and act on that very same curiosity. Walking over and grabbing my mask, I thought so much for not wearing my mask today. As I fastened it to my head, I once again grabbed my full basket, held it behind my back with one hand, and opened the door with the other.
Stepping out, I slowly began my walk to where she was playing. As I approached and she spotted me, she smiled as if she had found a long lost friend. I was filled with joy knowing that my question was answered in my favor. She stood up, dusted the dirt off her dress and began to wave at me. I returned the gesture and waved back. Now standing in front of her, she immediately noticed I was hiding something behind my back and tried to peek by leaning her head over to the side. Not being able to contain myself, I all at once brought the basket around from behind my back and extended unto her. Her little hands gripped the side of the basket as she stood on her tip-toes and peered in. she smiled and said, "Can I have one birdie?" I nodded in agreement with her and she in turn picked out a nice juicy carrot.
As she looked at the carrot in her hands she reminded me so much of myself when I was a child, so full of curiosity and wonder. All at once she said, "What am I birdie?" She then took a bite of the carrot and began to hop around in a small circle. I immediately knew she was imitating a rabbit, but I chose to play along and humor her. I placed my hand under my chin in an attempt to look puzzled and remarked through my mask, "Are you a cat or a dog?" She giggled and said, "No birdie, guess again." As she continued the charade I continued, "Are you a bird or possibly a horse?" Once again she giggled and said, "Nope, try again." Finally, I gave the magic answer, "Are you a rabbit?" She laughed out loud and said, "You got it birdie!"
As I watched her joy and delight with my answer I noticed another visitor coming up the road. It was the young niece of Mr. Winchester. As she approached, I saw a look of relief on her face as she saw the little girl safe and sound. "There you are! I have been searching high and low for you. The maid told me you might be here. What on earth are you doing here?" The niece exclaimed.
The little girl said, "I'm playing with birdie." "Who is birdie? Is that the name of your rag doll?" The niece asked in a puzzled tone. The little girl shook her head in disagreement and the pointed her small finger at me, "That is birdie." All at once the niece looked up at me and said, "Oh, hello doctor. I trust she has not been a nuisance to you this morning." Like the small girl I nodded in disagreement and said in a muffled voice, "Quite the contrary my dear, she has brought me considerable joy and is most welcome here. How is your uncle, Mr. Winchester? I trust he is in good health and high spirits."
The niece smiled and nodded, "Yes, he is indeed well thanks to your services." I was pleased to hear my efforts were not in vain as I had feared. "I'm glad to hear that. Please give him my regards." She smiled and said, "And so I shall good sir. Come little one; let us return home and trouble uncle's nerves no more." As I watched them walk off hand-in-hand, I noticed the little girl turned once more, with the carrot still in her hand, and waved bye. I waved bye as I watched them disappear off in the distance. As I lingered there, I couldn't help but wonder if the joy I felt inside myself toward her was the same joy my grandfather had toward me.


I know this was long, but thanks for humoring me if you did read it. lol Here is the recipe for the figure:

Head-Hoth Luke Skywalker with sculpt added
Body-LOTR figure with a full repaint
Cape-Darth Vader
The rest was fodder. Hope you enjoyed. And FYI the Plague Doctor mask in the last pic is one I made for myself. lol Cheers!