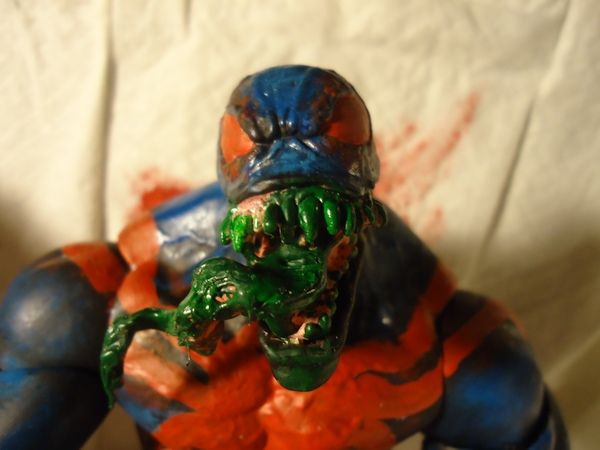 | | |
| --- | --- |
| Custom #: | 52807 |
| Name: | Venom: Earth One |
| Custom Type: | Action Figure |
| Toy Series: | Marvel |
| Creator: | ProtocolTenCustoms |
| Date Added: | August 18, 2013 |
| Base Figure: | 12 Venom |
| Height: | 12.00 inches |
| Completion Time: | 72.00 hours |
| Articulation: | 25 points |
Hello everyone! Today I've got another of my characters from the universe I made up, which is Earth One, and its non other than in my opinion, the most powerful, and game ending villain in the history of Spider-Man.....Venom! Originally I was going to do a Ryan Kwanten as Venom, but I wanted to do another of my Earth One characters, plus I want that in a scale that fits the DS Amazing Spidey movie figure. So I went and came up with this crazy mother @#!#$% ! When I went and did the concept art, I wanted to do a massive Venom, but, sadly, I don't have any big hulking figures to put his head on (reference LC's Sam Keith Venom, and GW's Dark Avengers Venom to see what I'm talking about) so I decided to go with my third design, (I have three, a normal, hulked out, and then this guy) which was a very large, yet no so muscular Venom. Also I wanted to have Venom have different colors, so I went with a light blue dry brush, over a black bas coat, and some Thunderbolts inspired red eyes and logo, and a small amount of red dry brushing, to give the red a glowing effect.

Bio: Venom is not as you know him in this Universe....in my universe he is Richard Parker, father of Peter Parker, and Spider-Man's greatest enemy. How did he succumb to the symbiote you might ask ? Well you see, the night he, and his wife, Mary went missing, they were told by shield to investigate a strange meteorite that landed on the beach of the Jersey shore, that night when the two investigated the huge rock, they found that there was a strange black substance in it, the symbiote. It latched on to Richard, and the symbiote proceeded to take Richard, and use him as a host, to kill Mary, and reek havoc, luckily, Nick Fury, and S.H.I.E.L.D took down Richard, before he could do any real harm, when they tried to ask Richard why he had done this, (the symbiote was in disguise at this point) they were confronted only by a huge, black, slimy, and red eyed monster, that only wanted to kill them, when Nick Fury, aided by silver sable,and Shield agents took down him down, They asked what the creature called itself, it only responded, in a horrible Demon like voice; "I AM VENOM!!!!" Now, years later, Nick Fury watched personally watches over Richard, or Venom, and his son, Peter, but Shield can not hold the beast for much longer, soon Peter Parker will be confronted by Nick, his father, and his destiny ! (all in the wake of trying to save his chiledren)



The only things I did to this figure was shorten the arms, and then I used hot glue on the arms to do a tentacle feel, and then did some saliva.

Hope you all like my back-story, and my custom!


~Ten


P.S I think in the future I will do two different versions of this figure, a normal sized one, and then a hulked out one.