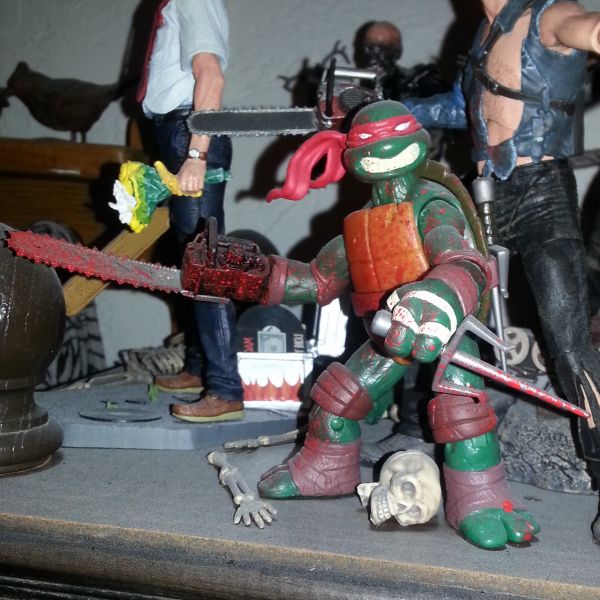 This particular figure started conceptually at a horror movie convention in North Carolina, called Mad Monster Party. On the convention floor, I happened upon a group of artists who called themselves Lost Story Studios. Their particular gimmick that weekend was that they would take an cartoon or comic-related character of your choosing, and draw them as a zombie, for a reasonable fee.
"Would you make a character into something other than a zombie?" I asked.
"Anything you want," they replied.
Instantly, the two main things I cared about as a child, the Teenage Mutant Ninja Turtles and Evil Dead II, collided with each other and I practically shouted "Can you do Raphael with a chainsaw hand!?" They were almost as excited to do it as I was to suggest it.
Needless to say, I spent the entire weekend staring at the picture they had drawn for me. But, for me, just a picture wasn't enough.

Shortly after I got back from the convention, I went on eBay to find the right combination of parts to make this figure a reality. After quite a while of searching for toy chainsaws that were either too big, or too small, or just looked goofy. I took inspiration from a figure that I already had, who I was basing the ideal chainsaw on anyway.

I purchased the cheapest McFarlane Movie Maniacs Ash from Army of Darkness that I could find, because the chainsaw connected to his stump was removable.

I waited for the figure to get to my apartment. The day that it did, I just popped around the corner to my local Walgreens and bought a basic Raphael figure from the new Teenage Mutant Ninja Turtles cartoon. (Luckily, it was the only figure from the line that they had)

I took Raphael home. Lopped off his hand with a knife. Shaved down the bit of green, plastic, turtle-bone that was sticking out too far from his wristband, so that there was a nice, flat surface for the chainsaw to attach to.

Then, I used a strong adhesive (Super glue, no sense in fancying it up) and attached Ash's chainsaw where Raphael's hand used to be.

After placing him in a battle-ready pose, I just took some simple red acrylic paint and splatter him in various areas with a toothbrush.

Then I proceeded to drool over it up until this very moment, because it is like staring my childhood directly in the face.

A simple creation, but one that is as close to my heart as it gets.

I hope other people enjoy him as much as I do.