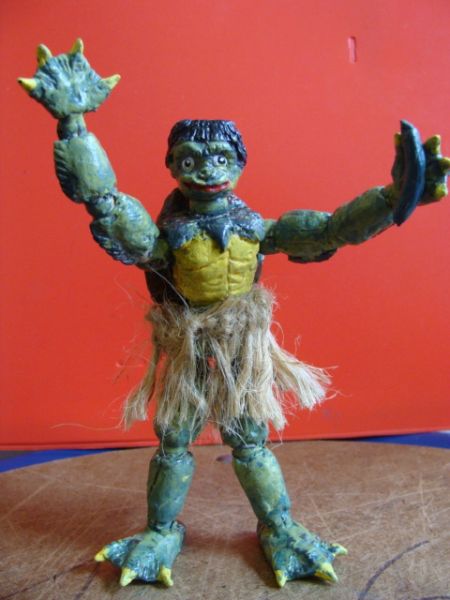 | | |
| --- | --- |
| Custom #: | 54097 |
| Name: | Kappa006 |
| Custom Type: | Action Figure |
| Toy Series: | Mego |
| Creator: | Yokai-John |
| Date Added: | September 28, 2013 |
| Base Figure: | Wooden Movable body model |
| Height: | 4.75 inches |
| Completion Time: | 4.00 hours |
| Articulation: | 16 points |
YokaiJohn's 6th Kappa action figure stands 4 3/4 "tall.
Kappa (河童, "river-child"), alternately called Gatarō (川太郎, "river-boy") or Kawako (川子, "river-child"), is a type of aquatic yokai or water deity that inhabits the rivers in rural Japan.
Although the kappa is a formidable creature, it is incongruously small, usually no bigger than a 10 year old human child. It might have a bird-like beak or a pointed mouth, but sometimes it has a face like a monkey instead. It often sports a tortoise's shell on its back, and its slippery skin is usually depicted as being green,although it is said it can also be blue or yellow as well.The most notable feature of the kappa, however, is the water-filled depression atop its head. These cavities are surrounded by scraggly hair, and this type of bobbed hair style is named okappa-atama for the creatures. The kappa's limbs are long and sometimes stretchy, and its elongated fingers and toes are webbed like a duck's or frog's, giving it remarkable powers of swimming. The expression kappa-no-kawa-nagare ("a kappa drowning in a river") conveys the idea that even experts make mistakes. The creature itself is also notorious for its fishy stink and its flatulence is known to be particularly noxious, the kappa often use gas in self defense when caught by fishermen. It is sometimes thought to have three anuses with which to expell these fumes
The kappa derives its incredible strength from this strange depression atop its skull containing a magical water elixir that gives it both strength and life. If attacked by a malovelant Kappa, all one must do to halt a Kappa's assault is to give a polite bow in its direction. The kappa possesses a deep sense of etiquette, and will be forced to return a deep bow, even if it means losing its head-water in the process. Once depleted, the kappa is seriously weakened and may even die. Other tales say that this water allows kappa to move about on land, and once emptied, the creatures must return to the water.
Here's Yokai-John's 6th Kappa action figure:
Yokai-John sculpted entire figure (and cucumber accessory) from Claystone over a wooden movable model body.Yokai-John painted the entire figure with acrylics and sealed with ModPodge.Yokai-John made his grass skirt from twine.