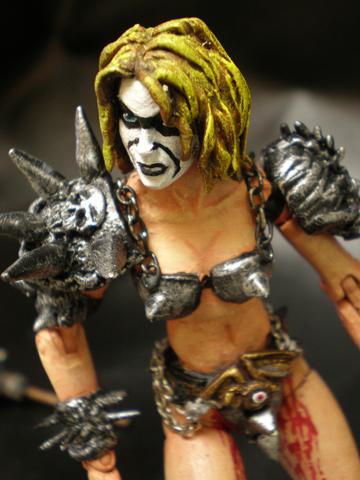 | | |
| --- | --- |
| Custom #: | 5455 |
| Name: | Slymenstra Hymen |
| Custom Type: | Action Figure |
| Toy Series: | Gwar |
| Creator: | TPCustomStudio |
| Date Added: | December 21, 2007 |
| Base Figure: | LCBH Witchblade, ML Wasp arms |
| Height: | 6.00 inches |
GWAR's Slymenstra Hymen
Instrument: Scissors
Age: A woman never reveals her own age unless its a lie
Date of birth: I don't celebrate birthdays, they're something I'd rather forget
Home planet: Coelltisphere, A warrior queen zone
Height: I tower above thee, when you're down on your knees spit shining my boots.
Weight: None of your business!
(Answer in TTE bio: None of your business! Off to aerobics class, then I'll have chessecake.)
Eye color: Green-eyed lady, eyes are the mirror of the soul
Favorite color: The color of a freshly devoured body
Favorite T.V show: Let The Tube Be Broken
Favorite movies: Santa Sangre, The Fourth Man
Favorite drink: The blood of a young boy
Favorite sport: Man Juggling
Favorite hobbies: Flesh kneading, setting traps for man's ruin, gossip, stealing your boyfriend, man hatred
Last book read: The story of an eye, Georges Balalle. Recited to me by a young slave-boy who became too embarrassed to continue.
Last book written: Setting Myself Up To Fail; Total Ego Press 347 B.C.
Last raped orifice: My own
Favorite celebrity: Mozart
When I get mad: I simply displace my aggression on the nearest available whipping boy.
Dreams or goals: To heal the planet, but since that's a lost cause, to be on a planet of strong, independent women with no men around to get in my way.
Philosophy: A creature of terminal vanity, I love myself.
What shames me: I don't understand the question.
On dates I like to: I wouldn't know - men never ask me out. My beauty and intelligence terrifies them. They fear an emotional and spiritual death at the thought of union. Cowards!
Quote: "There is no better way to know death than to link it with a licentious image"
My sponsor: "Full on Flow" Tampons


My sixth GWAR figure, GWAR's dancer and sometimes vocalist was made from a LCBH Witchblade with ML Wasp arms.And it was my first "Love Surgery". I never cracked open a figure before and I was so nervous since it was my last Wasp figure. I split the torso removing the entire arms and did the same on witchblade, swapping them out. I then removed all the hair and sculpted anew. I also sculpted alittle wider nose and fatter cheeks. I added more of a waist as well. I then dremeled down her legs, sculpting them. Armor was then sculpted with fixit sculpt and Super Sculpey. Chains are from a Zombie Spawn I had as well as sterling silver chain I had laying around.I drilled holes in her hands and added pegs to the torches so she can hold them.
The Battle Mace was made from a Viking Spawn weapon end and a piece of plastic tubing. Her torches were made from Ghost Rider movie blackheart missiles.