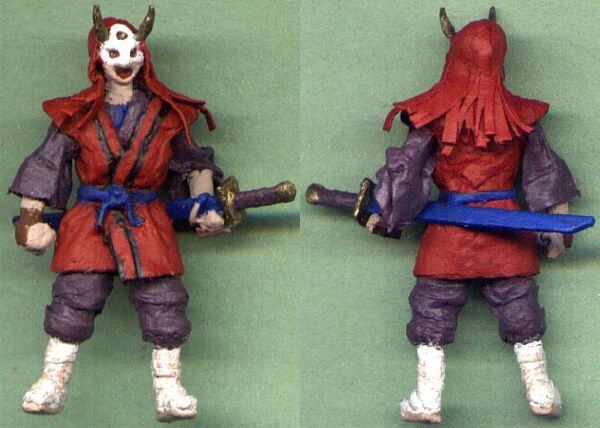 Master Ninja are deadly assassins that can be encountered in many installments of the Wizardry roleplaying game (RPG) video game franchise. In particular, my version is based upon the sprite from the Japanese PC-Engine CD port of Wizardry III: Legacy of Llylgamyn (which was first published, thirty years ago, in 1983, by Sir-Tech Software for the Apple II). In that episode, they were usually depicted wearing a stereotypical full-body crimson ninja suit, but the artist(s) of the PCE disc redesigned the enemy, giving the Master Ninja a Hannya (a horned Noh theater mask that represents an obsessed/jealous female demon) and more colorful/flamboyant clothing, which makes the character a lot more distinctive and memorable. Once you've earned the title of "Master", you should wear something outlandish to advertise how special you are. If nothing else, it's easier to kill people while they're busy mocking you for your complete lack of fashion sense.

Master Ninja have 13-31 Hit Points (6D4+7, average: 22) and an Armor Class of 2 (for comparison, a typical, unarmored human has an AC of 10--note that, in classic Dungeons & Dragons rules, which Wizardry is based upon, AC bonuses are subtracted, not added, so, the lower the number, including negative values, the harder you are to hit). However, like most ninja, favoring speed and mobility, they wear little or no armor, as such, a Master Ninja's relatively low AC is more a reflection of his skill at dodging blows than actual physical protection from damage. The only other notable defense a Master Ninja possesses is a 36% resistance to spells that cause instant death (enemies get +6% per experience level, so, ranked at Level 6, Master Ninja can cheat the reaper slightly more than one third of the time).

A Master Ninja always wields a katana, and, so great is his speed and skill with this blade that he can potentially land three blows in a single round of combat [(2D4)x3; 6-24 points of damage if all three strikes connect]. Even worse, like most Wizardry shinobi, these warriors have perfected the killing arts to such a degree that any weapon, no matter how mundane, becomes functionally vorpal in their expert hands, as such, there's a chance that any successful blow (even bare-handed strikes) will result in the instant decapitation of the target. Maybe I'm just bloodthirsty, but I've always liked to think of said head exploding, a la Kenshiro from the Fist of the Northstar anime, rather than just getting severed, but that's just me.

Like any sensible party of adventurers, Master Ninja are firm believers in the buddy system. An encounter with Master Ninja will always be a group of 2-6 individuals (2D3). There is also a 25% chance that the Master Ninja will be accompanied by an additional band of 2-6 (2D3) "normal" Ninja henchmen. Unlike some dungeon denizens whom you can occasionally catch in a good mood, these evil assassins are never friendly, so if you happen to bump into them while exploring, the result will always be a fight-to-the-death. On the upside, these shadowy warriors tend to be cowardly (they'd much rather prey upon the weak and defenseless than face well-armed heroes and heroines) and will frequently flee from battle, particularly if they don't think that the odds are in their favor. As Jounin Oushikuso once observed, "To strike your enemies is good, but to run swiftly from them is even better!"

My Master Ninja figure was made, completely from scratch, during a marathon modeling/painting session on the eleventh of October (I only stopped working once, to use the bathroom, from start-to-finish). The figure itself wasn't too difficult to create, but he was tricky to paint, due to the small size and number of colors in close proximity to one another (I'd apply one hue, only to get some spots of it where it didn't belong, so then I'd have to touch those errors up, but then I'd get some of the new color where it wasn't meant to go, and so the cycle would repeat, over-and-over again, until I finally got it done right).