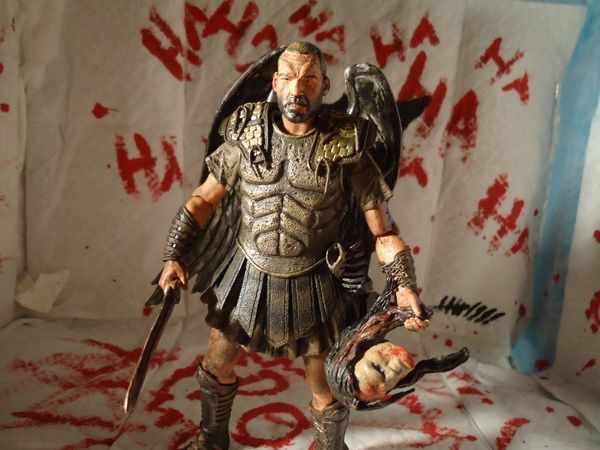 | | |
| --- | --- |
| Custom #: | 54678 |
| Name: | Zachariah: the Man that Died, and the Angel that Lived. |
| Custom Type: | Action Figure |
| Toy Series: | Original |
| Creator: | ProtocolTenCustoms |
| Date Added: | October 14, 2013 |
| Base Figure: | Perseus |
| Height: | 6.00 inches |
| Articulation: | 16 points |
"Zachariah was a zealot who lived in in Jerusalem in 30 AD, who was killed while leading a rebellion on the advances the Roman Legion in the holy city. Zachariah was a deeply religious man, who always prayed for the lives of his men, and the souls of the ones he killed, he always was vigilant and smart in his battles, but nothing could prepare him for his battle with the Romans, who was lead by a strange tall figure, this man was a Legate possessed by the Demon with a quite ironic name, that being Legion, the one of many, a true force of evil, and one of the generals of Lucifer's army. When Zachariah went into battle, his forces where wiped out, and his was executed by the black eyed Legion. But as Heaven watched over the great battle, God knew that the only Legion was too powerful to be stopped by just angels in a normal warriors body, so he decided that Zachariah deserved a chance at righteous revenge, so God sent Down Ezekiel, one of his most cunning and trusted warriors, to take Zachariah as a vessel to vanquish Legion (temporarily). But and so he did so, but God realized that Zachariah's will was too strong or Ezekiel, and he knew that if he did not accept the possession, then Ezekiel would be sent back to the Heavens, so God decided to do something he had never done, and made Zachariah's soul into that of an Angels (replaced it with pure grace),and Archangel, and Zachariah gained wings,and was given a gold sword, with the words "Zachariah, angel of God" inscribed in his native tong of Hebrew, and fought a mighty battle with Legion and his army, and emerged victorious, with the head of Legion, with with he preceded to exercise with his new found gifts of grace."

Hello everyone! Sorry for the long time absence, I just got a new computer, (gaming PC) and wanted to set that all up, and kind of watch my money for a bit, so I could buy a bunch of new supplies, which I did (New set of Testers hobby knives, with 3 different bases,and 13 different knife heads , and a new cordless dremel, lots of paint remover, new paints, brushes, and a new setup)alright let me stop rambling, sorry, I'm just so exited to be back in the game! :)But any how, this custom is a custom I talked about with NeCroll awhile back, originally going to be Gabriel, but I decided to name it Zachariah, after my brother Zack. This was a warm up, and a really fun custom to do, plus I got to practice my Hebrew and writing skills! Lol


Hope you like my story, and my custom, its good to be back realmers!! :)

-Ten
P.S sorry for not being able to see the letters on the sword, I'm usually really good at writing in Hebrew, but it was pretty difficult to carve, and to highlight. Does anyone know a good way to highlight the letter? I tried to use a wash, but as you can see, it turned out not so good, if anyone could share this technique with me, it would be much appreciated :)

Also, sorry for the blurry sword pics, and also if my lettering is a bit off, its been awhile, lol...