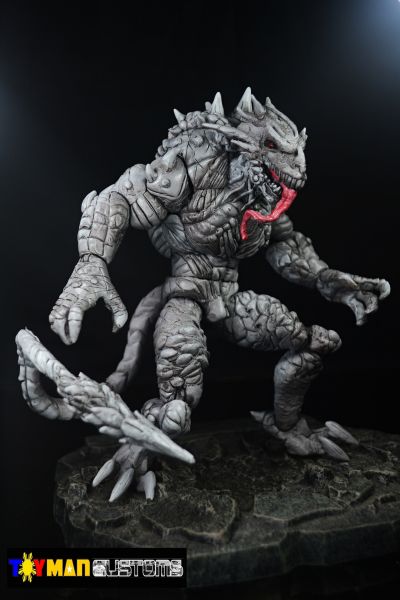 | | |
| --- | --- |
| Custom #: | 55426 |
| Name: | Predator X |
| Custom Type: | Action Figure |
| Toy Series: | Marvel Legends |
| Creator: | toymancustoms |
| Date Added: | November 7, 2013 |
| Base Figure: | VENOM SCORPION |
| Height: | 7.00 inches |
| Completion Time: | 60.00 hours |
| Articulation: | 32 points |
Allegedly, William Stryker, before dying, had requested a living weapon, a huge beast called the "Predator X". To create it, the Facility needed Mercury (Cessily Kincaid)'s metal skin was needed to give him more durability and powers. Test were operated on the mutant Maximus Jensen, aka Mammomax, who was killed by the Predator X.

When Cessily decided to take X-23 (Laura Kinney) to Salem Center for coffee to cool Laura down after learning of Emma Frost's plan to have X-23 leave the school, Facility agents led by the Weapon Plus program, including X-23's former handler, Kimura came and abducted Cessily, leaving Laura behind. Gruesome experiments partially stripped the girl of the needed bio-metal, granting the beast her powers and leaving her in extreme pain. The experiments left her physically and mentally traumatized, and she went into recovery at the Institute. Predator X was, presumably, then covered in a flexible metallic skin.

The Purifiers began tracking down the creature, in hopes of using it as a weapon against their mutant enemies and William Stryker's predicted "Anti-Christ" in particular. It killed and ate a rodent-like American mutant, whose remains were left behind.

Powers

The Predator X are dependent on mutant DNA, with an insatiable craving for mutant blood, bone, muscle and flesh. It craved its next meal even while finishing its current fare. The more it ate, the hungrier it got. Its genetics were left intentionally incomplete; its DNA strand evolved with every meal, allowing it to form defensive attributes against powers similar to its victim's.

When Predator X came into contact with mutant blood, a psychic connection was formed between Predator X and the mutant, allowing Predator X to see flashes of their recent memories. These visions helped Predator X find its next meal, tracking down the people and places seen in those memories. While it possessed heightened senses, its engineered mutant tracking ability far exceeded its more natural skills.

Predator X's bones and muscles had enhanced flexibility, while its skin was liquid metal, affording it enhanced durability and rapid healing of wounds. Its jaws were large enough to swallow a man whole, while its teeth were sharp enough to cut a man in two with a single bite. Predator X was evolving into the ultimate organic sentinel, growing stronger and more deadly with every mutant it devoured.

SCULPTED BY TOYMAN ARTIST ERWIN DELA CRUZ AND PAINTED BY TOYMAN!!!