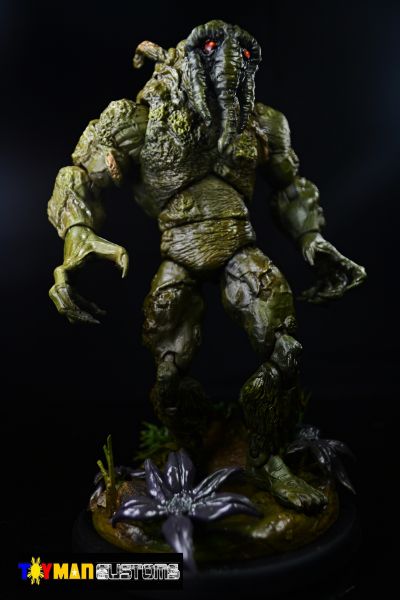 | | |
| --- | --- |
| Custom #: | 55598 |
| Name: | Man-Thing |
| Custom Type: | Action Figure |
| Toy Series: | Marvel Legends |
| Creator: | toymancustoms |
| Date Added: | November 13, 2013 |
| Base Figure: | SCORPION VENOM |
| Height: | 7.00 inches |
| Completion Time: | 70.00 hours |
| Articulation: | 32 points |
llegedly, before Earth was formed, a creator being from before time spawned the Fallen Stars, each an embodiment of one of its thoughts. On Earth, the creator made a woman, Cleito, representing the nature of reality. Cleito spawned Adam K'ad-Mon, the first Man of Lineage, and their birth site became the Nexus of Reality, a focal point uniting all dimensions. Descendants of K'ad-Mon served as Nexus guardians, but over time the Men of Lineage became less concerned with this mission, until eventually one man abandoned it completely: Ted Sallis.

The Man-Thing can lift 1000 lbs. and is very durable. Punches or projectiles tend to pass entirely through him or lodge harmlessly in the porous muck of his body. Even after losing much of his physical mass, his body will rebuild itself, drawing new material as needed from the surrounding swamp. Similarly, he can ooze through or around openings or barriers, such as wire mesh or steel bars.

The Man-Thing is extremely sensitive to emotion, which can affect his behavior and physiology. Mild emotions arouse "curiosity," and lead the Man-Thing to observe events from a distance. Violent emotions, such as fear, anger, and hatred, cause him extreme discomfort, often provoking him to attack. Fear in particular causes him to secrete a chemical similar to fuming sulfuric acid, such that whatever knows fear burns at the touch of the Man-Thing.
The Man-Thing's unique mystical-chemical physiology makes him dependent on swamp environments, particularly the Florida Everglades near Citrusville. While he is ageless and immune to disease, prolonged separation from the swamp could render him dormant or dead. Exposure to the chemicals of a sewage treatment plant has slowed the rate at which he weakens, and he recovers rapidly when returned to the swamp.

SCULPTED BY TOYMAN ARTIST ALVIN CARPO NAVARRO, PAINTED AND DETAILED BY TOYMAN!!!!