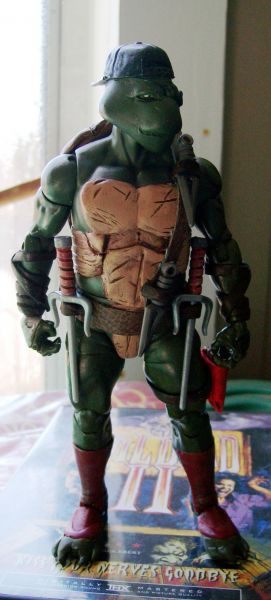 Basically when I went through my divorce, I didn't have anywhere to keep my customs or fodder, so I sold the lot, and began to work on figures in 1/18 scale, but I missed my Ninja Turtle collection, and decided I needed to rebuild. I started from scratch and since I was doing that, I decided to begin a new mythology...because...that just seems to be what I do. Anyway, here is the first Raphael figure I've actually though came out pretty good.

20 years in the future, the Shredder is gone, Dimension X is sealed away, but something had happened to the Turtles...something that left each of them forever scarred in their own ways. When I new portal appeared over New York, the alarm sounded...fear that something from their past had returned. In a way, they were right, from the portal the teenaged version of Michelangelo fell from the sky. Met by part of a new generation...an alternate form of the lizard-girl Mona Lisa greeted him, introducing him to this very new, very different world...a divergent world...with new allies, new enemies, and new challenges.

Raphael: So, you're really Michelangelo from a parallel world?
Teenaged Michelangelo: I guess.
Raphael: Well kiddo, don't expect to have too much in common...
Teenaged Michelangelo: What do you mean?
Raphael: Trust me on this.
Teenaged Michelangelo: Okay...that's all well and good...but on an unrelated note. Who is the giant mutant shark heading our way?
Mona: That's Armaggon...he's not a nice fish...probably should've mentioned him...
Raphael: Yeah, that probably would've been a good idea...

So basically I decided to use WWE Elite figures as bases, mostly because there are enough body types to have completely differing physical appearances for the Turtles. Sculpted the shell, toes, and head, used leather to make belts, wraps and such, the weapons came from different figures (sais from Classics Raphael, knives from TMNT figure), the hat from a an old wrestling figure (I just found it mixed in with my GI Joe parts) and the hands from a ML Sabretooth (because I'm not a particular fan of 3 fingers/ 2 (or 3 circa Nick Turtles) toes, mostly because I've never seen turtles with such things.