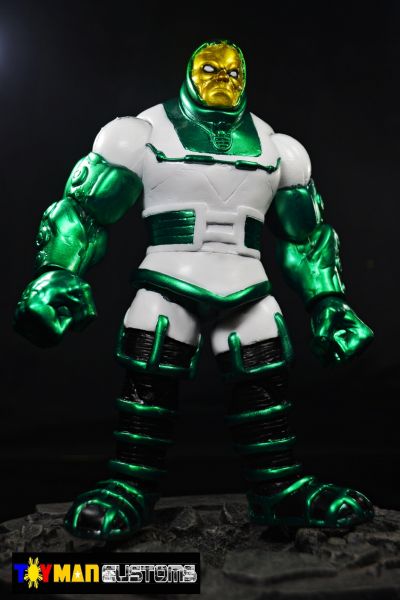 | | |
| --- | --- |
| Custom #: | 56392 |
| Name: | Psycho-Man |
| Custom Type: | Action Figure |
| Toy Series: | Marvel Legends |
| Creator: | toymancustoms |
| Date Added: | December 12, 2013 |
| Base Figure: | HULK 2 PACK |
| Height: | 8.00 inches |
| Completion Time: | 60.00 hours |
| Articulation: | 32 points |
The Chief Scientist and ruler of the technocracy governing the five planets of the Sub-Atomica system within the Microverse (a reality accessed via the energies of shrinking), Psycho-Man discovered the secrets of fear itself with the guidance of the Earth goddess Nox. When his system became overcrowded, he sought a new home for his people and chose Earth, whose population he believed had no defense against his weaponry. He created a human-sized armored suit and Control Box. Unable to transport a weapon large enough to affect the entire planet, he employed several criminals whom he kept in line via his Control Box-Ivan, Live Wire, and Shell-Shock-successfully gathering the materials to construct his large Control weapon. However, the land he used as his base had been recently purchased as Panther Island by the Black Panther. With the help of the Inhumans, the Black Panther fought with him and bested his partners. Then, with the appearance of the Human Torch, Thing, Triton, and Lockjaw, they fought him directly, but were stalled by his massive psycho ray that kept them at bay with their greatest fears. But Gorgon arrived moments later and discovered the ruse and helped his friends escape and destroy the gun; and in a final battle, the Black Panther sneaked up behind Psycho-Man and grabbed him, where-in he disappeared again into the Microverse.

Powers
Psycho-Man usually depended on armor and weapons. He has sometimes stated that he derives power from the emotions he causes, like a psychic vampire. He recently gained some of the powers of his Control Box, as well as the ability to generate solid energy forms to give substance to his illusions. Psycho-Man wears a variety of body armors (or uses robot-versions of himself), demonstrating superhuman physical powers; some are giant-sized or possess other offensive powers. He traveled throughout the Microverse in an immense World Ship, and has the means to travel to and from Earth or other dimensions. He has created androids able to pass as human, alter their appearances, and manipulate emotions.

SCULPTED AND PAINTED BY TOYMAN ARTIST JEPOY!!!!