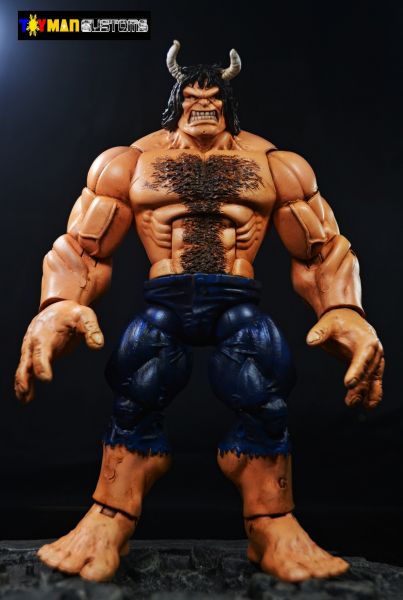 | | |
| --- | --- |
| Custom #: | 56393 |
| Name: | Man-Bull |
| Custom Type: | Action Figure |
| Toy Series: | Marvel Legends |
| Creator: | toymancustoms |
| Date Added: | December 12, 2013 |
| Base Figure: | HULK 2 PACK |
| Height: | 8.00 inches |
| Completion Time: | 50.00 hours |
| Articulation: | 32 points |
William Taurens a.k.a. Bull Taurus, and his partner, Itch, worked for Mr. Kline, who instructed them to kidnap people off the street. Their victims were to be used as test subjects by the Professor, another employer of Kline. Daredevil stopped the kidnappings, but Bull was chastised for his failure and forced to undergo the experiment himself. He recieved injections that transformed him into a super sized monster, complete with horns. As Man-Bull, he attempted to kidnap people, again Daredevil stopped him. Man-Bull reverted to human form after smashing into a wall and was sent to prison.

Taurus escaped from prison after Itch smuggled the Man-Bull serum into his cell. This time his transformation was permament. Man-Bull and Itch attempted to poison the New York water supply with the serum, but Daredevil stopped them. Man-Bull was then pulled into the water by an anchor but survived. [1] Over the years he worked with Matador and the Owl, but never succeeded as a criminal. When he degenerated into a more bestial state he called himself Savage and fought the Hulk, but lost

Powers

Man-Bull possesses various superhuman attributes as a result of being injected with a mutagenic serum based on bull enzymes.

Unstable Mutation: The serum used to give Taurens his superhuman powers has, at times, resulted in him mutating into a physically larger and more beastial form. This mutation is unstable as he does revert to his normal form or his more beastial form at seemingly random intervals. In his more beastial form, he possesses a bull-like tail, fur covering his body, an altered facial structure resembling that of an actual bull, and greatly decreased intelligence.

Superhuman Strength: Man-Bull possesses superhuman strength that has fluccuated at times since the enzymes have, unexpectedly, caused his body to mutate into a more beastial form from time to time. In his normal, primarily human looking state, Tauren's musculature and skeletal system was increased in efficiency by a factor of 20, giving him sufficient superhuman strength to lift at least 10 tons. In his most beastial form to date, the efficiency of his musculature and skeletal systems is increased by a factor of 100, giving him sufficient superhuman strength to lift about 50 tons.

SCULPTED BY TOYMAN ARTISTS VIC AND TESS ( HUSBAND AND WIFE DUO) !!!!!