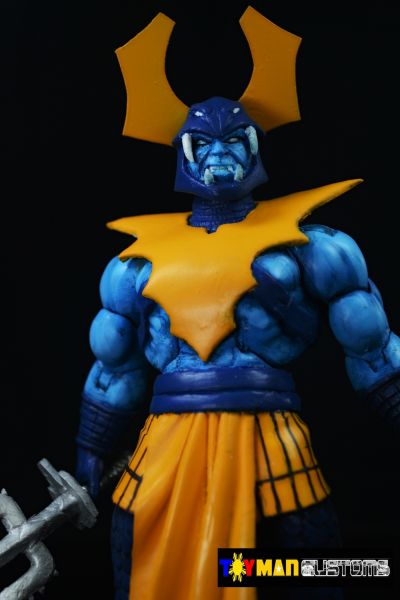 | | |
| --- | --- |
| Custom #: | 56713 |
| Name: | Attuma |
| Custom Type: | Action Figure |
| Toy Series: | Marvel Legends |
| Creator: | toymancustoms |
| Date Added: | December 24, 2013 |
| Base Figure: | MOTU SKELETOR |
| Height: | 8.00 inches |
| Completion Time: | 60.00 hours |
| Articulation: | 32 points |
Attuma was born into the tribe of Homo mermanus who eschewed civilization to live as nomadic barbarians. For some unrecorded reason, Attuma was endowed with strength far surpassing that of his people. Nearing adulthood, Attuma learned of a prophesy, in the lost Atlantean Chronicles, of a conqueror who would take the empire of Atlantis by force. Believing he is that conqueror, Attuma has launched numerous attacks on the city of Atlantis and its regent Namor the Sub-Mariner.

Unable to best Namor in personal combat, Attuma has frequently taken allies to further his ambitions. These alliances have also met with defeat. The first time Attuma attacked Atlantis, the Fantastic Four aided Namor in repulsing his attack. In recent years, Attuma has battled the Avengers as well. Not renowned for his intelligence, Attuma has frequently employed renegade Atlanteans (Deep Six) and human scientists. One of them created the Octo-Meks, octopus-shaped fighting machines. Another proposed that he mate with human mutants in order to produce a sire stronger than Namor himself. Toward this end he abducted the mutant Phoenix, but she thwarted his plans. Although Attuma has never been able to claim a lasting victory over Namor, he was a party to the death of Namor's bride, Lady Dorma. Attuma is still at large in the Atlantic Ocean, having never been imprisoned for any of his deeds.

Powers
Attuma possesses the typical attributes of Homo mermanus: gills to enable him to extract oxygen from the water, superhuman physiology to enable him to withstand the extreme water pressure changes beneath the sea, blood circulation enabling him to withstand freezing temperatures, and specially-developed vision which is more sensitive to the green portion of the spectrum enabling him to see in the murky depths. Attuma is far stronger that the typical Atlantean. Whereas most Atlanteans can swim at a speed of 30 miles per hour, Attuma can swim at 60 miles per hour. Like all Atlanteans, Attuma cannot breathe air out of water. He is capable of lasting approximately ten minutes out of water before he begins to suffocate.


SCULPTED AND PAINTED BY TOYMAN ARTIST RAY DANOS!!!!