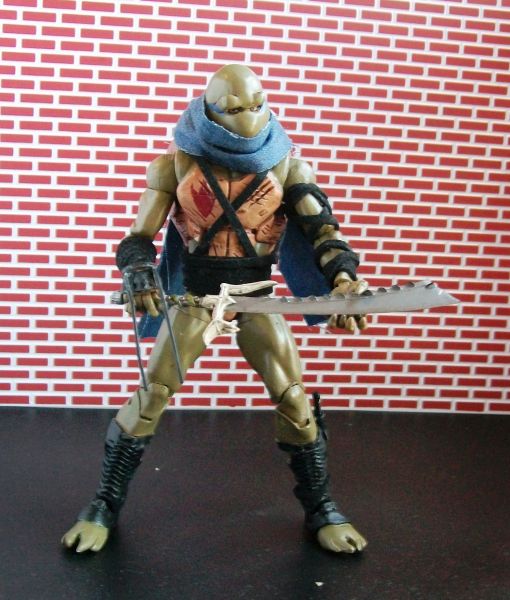 20 years in the future, the Shredder is gone, Dimension X is sealed away, but something had happened to the Turtles...something that left each of them forever scarred in their own ways. Leonardo had made a deal with the New York Foot Clan, that as grounds for a truce, he would take up leadership of the Foot Clan and due to the seemingly unimportant remainder of the Clan (which was viewed as an embarrassment thanks to Shredder's manipulation), the Japanese Clan agreed. While it was a decision that was not easy for Leonardo to make, he did it with the thought that it was the best for he and his family. His brothers however did not agree, seeing their brother, their leader branded with the Foot emblem was a disgrace, with only Donatello seeing the pros of arrangement. The truce ended though when a woman, calling herself Pimiko, and claiming to be the Shredder's daughter took control of the Foot in New York after forcefully making her way through the Japanese Foot ranks. Even Karai had been banished from the Clan, being the one to secretly contact Leo about the new order. With the truce broken, Leonardo sought to build a new relationship with his brothers often followed a loyal Foot member called Kino.

Raphael: Look who it is...mister leader flanked by his lacky...
Leonardo: Listen, I know you don't care much for me right now, but know I did what I did for us.
Mike (adult native, not teenaged visitor): Please forgive us if we don't necessarily believe you.
Leonardo: Listen, the Foot is returning under the leadership of someone far worse than me, Karai or the Shredder, and that means the truce is broken. Armaggon, Verminator X, the Foot, you'll need all the help you can get.
Mike: If you're right...
Leonardo: I am...you have to believe me.
Raphael: We don't have to do anything you say Leo...you're not the leader anymore...
Leonardo: You're right, Raph. Well, I delivered my message, you know where to find me if you need me.

So this is Turtle number 2 in my new collection. He's made from a WWE Elite Rock figure, the head sculpted, the feet sculpted, leather strips as belts and wraps, the right claw made from a GI Joe weapon, and the sword...I think it was a Spawn accessory.