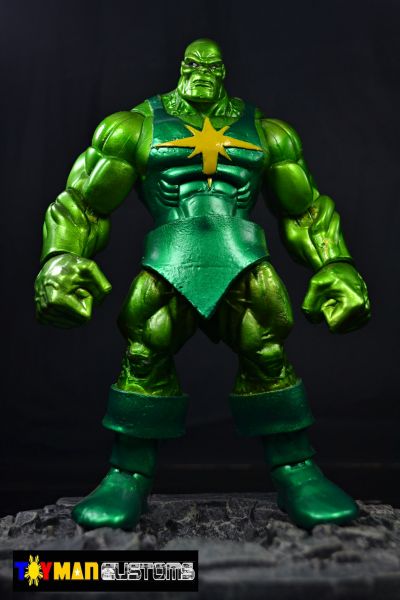 | | |
| --- | --- |
| Custom #: | 57786 |
| Name: | Radioactive Man |
| Custom Type: | Action Figure |
| Toy Series: | Marvel Legends |
| Creator: | toymancustoms |
| Date Added: | January 27, 2014 |
| Base Figure: | HULK |
| Height: | 8.00 inches |
| Completion Time: | 60.00 hours |
| Articulation: | 32 points |
Dr. Chen Lu was his country's foremost researcher in nuclear radiation and its effect on humans. When the select members of the Chinese military sought out ways to create a costumed champion with enough power to defeat Thor, they turned to Chen Lu. They sought revenge for Thor's success in stopping an invasion of India, but Chen hoped that he could use the opportunity to give himself power enough to take over the world. Chen turned his experiments upon himself, creating the powerful Radioactive Man. He immediately traveled to New York City and challenged Thor. Chen wasted no time proving to Thor that Mjolnir (Thor's hammer) or his elemental forces had no effect against him. With but a thought he could deflect Thor's hammer like it was a gnat. He convinced Thor that any "sudden physical violence" would cause him to "blow up like an H-Bomb". With no immediate solution at hand, Thor fell victim to Chen's Hypnotic-Trance becoming his slave. Chen ordered Thor to throw his hammer away so that he could possess it, but failed to order him how far. Thor tossed it out of Chens line of sight to the bottom of the Hudson River causing him to chase after it. Chen had no way of knowing that Thor could not be separated from his hammer for more than sixty seconds without changing back to Don Blake. Unable to find Mjolnir, and believing Thor had escaped, Chen took off looking for him. Chen was hunted down by Thor once more on the roof of a building while he was about to blow up New York City. He was trapped inside a private tornado created by Thor and transported to China. Thor allowed The Radioactive Man to impact the ground upon arrival causing an atomic explosion. Chen, mistakenly, was believed to have perished from the explosion.

Powers
The Radioactive Man's body is equivalent to a nuclear reactor. He constantly emits a certain amount of radiation, and his body glows an iridescent green (although he can appear human by force of will). He possesses superhuman strength and can also project his radiation for a variety of effects, such as heat blasts, a hypnotic light, beams of radioactive energy, and a force field sufficient enough to repel even Thor's hammer. His radiation often causes those around him to suffer nausea, dizziness, and other symptoms of radioactive poisoning, although his costume disguises a harness that allows him to remain harmless under normal circumstances.

SCULPTED AND PAINTED BY TOYMAN ARTISTS SANNY ALOJADO BLANCA!!!!