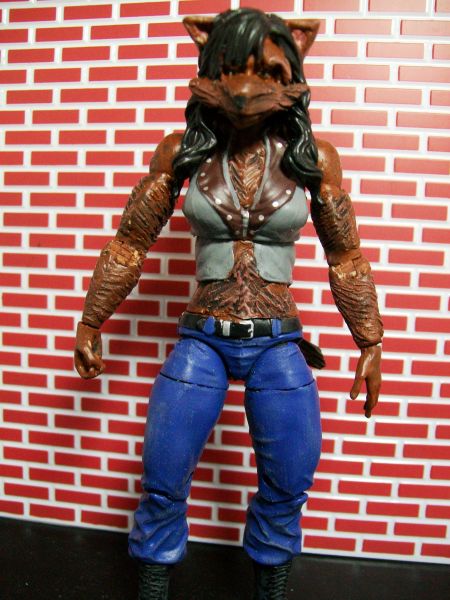 So, here we go with a Figurerealm first. In the Archie Ninja Turtles comic book series, Raphael dated a fox-girl named Ninjara for awhile. This is not her, no, Ninjara and Raphael were short-lived, but in the future Turtle timeline, Raphael still had a bit of a fur affinity. He had a girlfriend...eventual wife...named Mezcaal. Little is known about her, but she definitely had an attitude and wasn't afraid to put her foot down when necessary. So, here is Mezcaal, future Raphael's lady friend.

You'll notice that Mezcaal here wears boots (or shoes) and doesn't have the style feet that Ninjara had. The best I can figure is that Mezcaal was a human who mutated into a coyote, though I'm not 100%, but that's the origin I'm going with in my own continuity.

20 years in the future, the Shredder is gone, Dimension X is sealed away, but something had happened to the Turtles...something that left each of them forever scarred in their own ways. Raphael seemed to cope better than the others, still training and patrolling with the newer generations, while also seeking out some semblance of a normal life, complete with a relationship with a female mutant named Mezcaal. While not a fighter if given the option, Mezcaal still was never one to shy away from conflict, especially if it involved her "family," mutant and human alike.

Mezcaal: Raph, you're not as young as you used to be...
Raphael: Yeah...yeah...and next thing you're going to tell me is that I need to retire.
Mezcaal: As if, that would mean I'd have to put up with you a hell of a lot more often.
Raphael: ???
Mezcaal: I just felt like calling you old. I mean, you're easily 10 years older than me.
Raphael: You are a mean little canine, ya know?
Mezcaal: And yet I still keep you around...
Raphael: Yeah, you do, and they say I'm crazy.
Mezcaal: Get your shell outta here, go hang out with your teenaged vigilantes.

One of those female WWE figures I know nothing about, originally purchased to make a Shadow Jones, but then I decided that I'd add a non-green Mutant to the mix. Toying with trying to design a Ninjara, I ultimately decided to add a Mutant to the Realm that had never been done before, i.e. Mezcaal. Pretty much the WWE body, with sculpted on furry bits, a tail made from an AoA Sabretooth ponytail, and a fully sculpted face. Yep...that's about it.