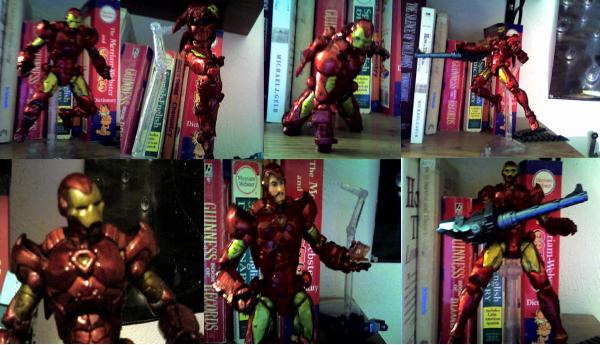 | | |
| --- | --- |
| Custom #: | 5832 |
| Name: | Iron Man - Civil War / Modern Armor |
| Custom Type: | Action Figure |
| Toy Series: | Marvel Legends |
| Creator: | Smiley |
| Date Added: | January 23, 2008 |
| Base Figure: | House of M-iron man |
| Height: | 6.00 inches |
My second, but truly my first real custom. wasn't easy either. thought it would be. because of kyle robinson's first civil war iron man, I had to make one. especially since the marvel legends version of itself did no justice. Iron man is iron man, not iron stick. like many, I used the house of M iron man(it really is a great base figure for shell head). I thought I would have to sculpt the shoulders, thigh armor and a head so I ended up having a second HOM iron man for like 4 months in my closet waiting to customized. sculpting from scratch and for the first time's a little discouraging. very grateful for the custom creation tutorials.anyways, I continue. I washed, scrubed and cleaned like crazy( shellhead is very slippery in warm soapy water). I switched heads between a ml8 I'm and the HOM I'm. had to whip out the dremel and shave some of the ball joint on HOM. the joint is massive compared to the ml8 I'm's neck ball joint.
Afterwards, I used some sculpty for the thigh armor he has.really wish I had eproxy sculpt,boiling sculpty takes forever. the thighs were more work than I originally thought. I still think it could've been better if it was done more skilled hands, but I got time. base coated it black and dry brushed it with silver. let dry.dry and dry!!! dry brush clear yellow and clear red. and more drying. I couldn't find and model master clear colors and all my hobby shops were all almost closed so I had to make due. I saw some tamiya paints and remembered it in a tutorial. it did the trick. but the model masters paints are WAYYYY better. thinner coat,easier to work with, less coats needed to go over. tamiya's great but model masters the way to go definitely. Oh, I also saw some screwing in of the shoulder pads, I glued instead, but I used the same trick for the back flight fins I gave him. didn't wanna waste those. also had these ugly circles on shellhead's butt so I dremeled through the side vents on the HOM I'm's head,then glue them and voila-more jets. I also decided to keep his forearms for a more bulk look.that and so I could keep his cannon. it could be shellhead's zero cannon(ref. to iron man adventure's short) this thing was a real pain the butt, but hey-labor of love. Any tips,tricks, criticism much appreciated. Especially sculpting tips. hope this can be an iron man to really do shellhead justice. I'm just glad to have an iron man to be proud of now. oh and sorry about the pictures, can't do too much with a 1.3 mp camera camera phone.