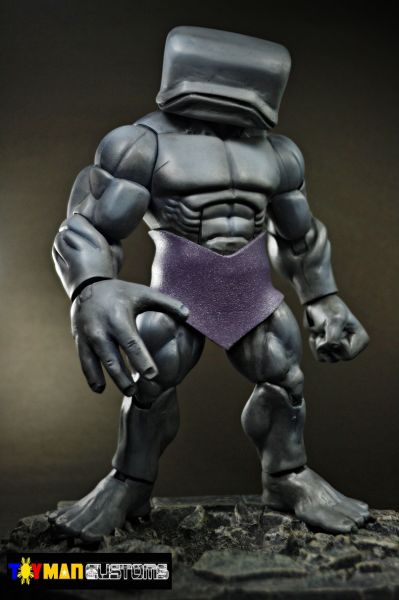 | | |
| --- | --- |
| Custom #: | 58766 |
| Name: | Awesome Android |
| Custom Type: | Action Figure |
| Toy Series: | Marvel Legends |
| Creator: | toymancustoms |
| Date Added: | February 25, 2014 |
| Base Figure: | HULK |
| Height: | 8.00 inches |
| Completion Time: | 40.00 hours |
| Articulation: | 32 points |
Origin

Created by the Mad Thinker utilizing stolen materials from Dr. Reed Richards, Awesome Andy began his life as a weapon to be used against super-humans. Andy was one of the Thinker's first attempts at creating synthetic superhuman servants. Andy is a cross between a robot and more "true" androids as he contains various mechanical parts.

Powers and Abilities
Powers

Mimicry: Andy possesses the unique ability to mimic certain characteristics or attributes of those he makes physical contact with. For example, he's taken on the rock-like hide of the Thing, the ice coating of Iceman's body, or Captain America's physique. He can only mimic a single attribute at a time and can retain the attribute for up to an hour. Andy also possesses variable superhuman attributes of his own without the need to mimic those of others.

Superhuman Strength: Andy is superhumanly strong and the limits of his strength can vary greatly. For example, if he were to make contact with beings such as Thor, his strength would be increased to the point of being able to lift far in excess of 100 tons for approximately 1 hour. His normal level of strength, however, is signifigantly less. Under normal circumstances, Andy can lift about about 25 tons.

Superhuman Stamina: Andy's musculature produces considerably less fatigue toxins during physical activity than the musculature of a human being. Under normal circumstances, he can exert himself at peak capacity for several days before fatigue begins to impair him.

Superhuman Durability: Andy's extremely dense bodily tissues are highly resistant to physical injury. He's able to withstand high caliber bullets, falls from tremendous heights, exposure to extremes in temperature and pressure, powerful impact forces, corrosive materials, and powerful energy blasts without being injured. By using his mimicry powers, Andy can temporarily increase his physical resistance even further, provided he makes contact with a sufficiently durable being.

Superhuman Agility: In spite of his great size, Andy's agility, balance, and bodily coordination are enhanced to levels that are beyond the natural physical limits of the finest human athlete. Provided he makes contact with a superhumanly agile being, he can add that beings agility to his own for up to 1 hour.

Superhuman Reflexes: Andy's reflexes are similarly enhanced and are superior to those of the finest human athlete.

Wind Expulsion: Andy is capable of generating and expeling powerful winds from his mouth at speeds of up to 180 miles per hour.

Limited Shapeshifting: Andy has demonstrated the ability to manipulate the shape and size of his body to some degree. He can transform his fists into giant blocks and has been seen to increase his height by as much as 10%.

SCULPTED BY TOYMAN ARTIST JOEL CEDILLA AND PANTED BY JUMBO!!!!