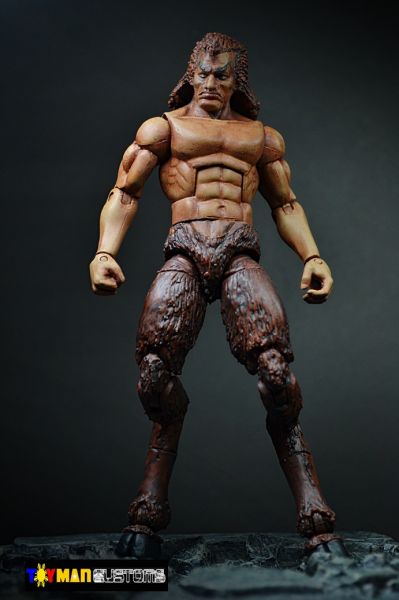 | | |
| --- | --- |
| Custom #: | 59036 |
| Name: | Woodgod |
| Custom Type: | Action Figure |
| Toy Series: | Marvel Legends |
| Creator: | toymancustoms |
| Date Added: | March 4, 2014 |
| Base Figure: | WRESTLING FIGURE |
| Height: | 7.00 inches |
| Completion Time: | 60.00 hours |
| Articulation: | 32 points |
Doctors David and Ellen Pace were biogeneticists hired by the government to synthesize a lethal toxic nerve gas; though opposed to violence, the couple accepted the job so that they could use its resources for their own project: gene-splicing human and animal DNA to create a new, hybrid species, which they hoped would combine man's intellect with the animal kingdom's proctivity toward peaceful coexistence. Assigned to Trinity Base (unofficially referred to as Vertigo Base and Tranquility Base due to its nerve gas research) in New Mexico, the Paces concealed their side project from their superiors by arranging to work off base on a farm outside the nearby town of Liberty. They successfully created a satyr-like being they dubbed Woodgod, with an accelerated metagrowth rate both physically and intellectually, designed to bring him rapidly to maturity. Within minutes of awakening he could speak rudimentary English, with his brain cell count tripling within 5 minutes of his birth. Within 2 days he had learned to walk, and was exploring the world with an infant's curiosity; by the third day hys physical growth had leveled off, but his mind showed no sign of slowing.

Powers
Woodgod possesses various superhuman abilities due, at least partially, to his unique Changeling physiology.
Superhuman Strength: Woodgod is superhumanly strong and, at his peak, is capable of lifting approximately 50 tons.
Superhuman Stamina: Woodgod's musculature produces less fatigue toxins during physical activity than the musculature of a human being, granting him some level of superhuman stamina. While the limits are unknown, he can at least exert himself at peak capacity for several hours before the build up of fatigue toxins in his blood begins to impair him.
Superhuman Durability: Woodgod's bodily tissues are harder and more resistant to certain types of injury than those of a human. For example, he has been shown to be able to withstand powerful impact forces, such as falling from great heights or blows from the Hulk, that would severely injure or kill a human being.
Superhuman Reflexes: Woodgod's reflexes are enhanced to levels that are beyond the natural physical limits of even the finest human athlete.
Superhuman Sense of Smell: Woodgod's sense of smell is also heightened to a degree beyond the capability of a human being. His sense of smell is developed to the point where he can recognize and track individuals by their scent.
Regenerative Healing Factor: If Woodgod does sustain injury, his body is able to heal damaged tissue faster and more extensively than an ordinary human. However, the limits of his accelerated healing isn't known. It isn't known if he can regenerate missing limbs or organs, is more resistant to disease, or extends his lifespan. However, he is more resistant to chemical toxins than humans.

SCULPTED BY TOYMAN ARTIST GLENN FLORES AND PAINTED BY JUMBO!!!!