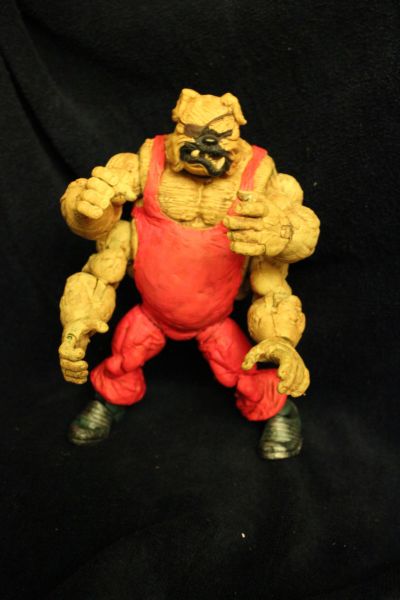 Cryin Hound is a champion wrestler from the Intergalactic Wrestling Federation who fought by himself against all four Ninja Turtles in the first comic book series. He very nearly won even against four skilled opponents, tossing the teenage turtles around like lightweights. The character concept was really great, but I decided against trying to replicate his very cartoonish face, instead opting for a style closer to the new IDK styling to go with other works in progress. A bulldog look seemed to match the closest to his cartoon look, used a head from a large articulated dog person series from a few years back.

Cryin Hound also has his entourage: manager in pink suit, Bitin' Betsy; bodyguard in black suit, Snarling Steve; bodyguard in white suit, Growling Gus. Snarling Steve has a sawed off double barrel, Growling Gus has a cannon arm with replaceable hand. They work hard to keep the adoring masses from mobbing the champ.

Cut apart two Maestro Hulks for this one, shortened at waist, stacked up, Aves Apoxie for the sculpt on his singlet. Dremeled on the knee and elbow joints, and at hips to cut down paint rub, sanded some spots as well. My daughter painted this one herself all the way through, dark brown wash over everything for detail and to make his singlet look dirty and worn, drybrush over the high points for detail and shading. Impressive for a 12 year old for sure.

After the events of the turtle comic, Cryin Hound has had many adventures as both a space pirate(lost his eye), glamour model, and he eventually became the IWF champion after defeating Ace Duck.

Hope you like Cryin Hound and his entourage.