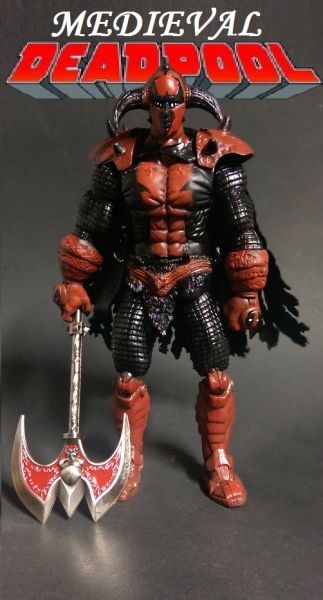 Original character Biography: BLACK DEATH aka King Deadpool alter ego William Wallace

William Wallace (c. 1272-1305) was one of the most important figures in the Wars of Scottish Independence (1296-1328). William Wallace's life inspired the 1995 Academy Award winning movie Braveheart starring Mel Gibson. In 1297, he killed the English sheriff of Lanark and soon established himself as one of the leaders of the Scottish rebellion against the English. On September 1297, the joint forces of William Wallace and Andrew Moray heavily defeated a superior English army in the Battle of Stirling Bridge. One year later, he was heavily defeated himself in the Battle of Falkirk and forced to go into hiding. Or so, everyone thought.

The weapon X program has been around longer than we knew, only under different monikers through the years at this time called the Knightsmith docket. This particular group was actually experimenting with the very early stages of weapon x and the super soldier serum that later predecessors would take all the credit for. At this time Will was experimented on in attempt to make the invincible knight, and his entire mouth and vocal chords were removed during the process to keep the program a secret. Unlike today's Deadpool, this one was silent, "The Knight Without a Mouth". He will break the 4th wall at times with the reader, but only offering his thoughts. In 1305, he was captured, taken to London and executed for treason, later to only sew himself back together and gear himself up for sweet revenge.

In Medieval times, this Deadpool was championed to run at the forefront of armies, wielding his heavy axe which no one knew at the time was made of adamantium....this was later discovered and melted down and injected in to a certain James Howlett..aka Logan/Wolverine. Swords, arrows, you name it, could not hurt this warrior. No one knew of his true identity as the famed William Wallace. The peasants and opposing knights gave him two names, The nickname Deadpool because of the piles of dead and pools of blood he would leave trails of on the battlefield. Many called him BLACK DEATH, named after the medieval plague that resulted in the deaths of an estimated 75 to 200 million people.

Later he rewrote history and became King Deadpool, as he could not be defeated by any King's army, and decided to overthrow the throne himself, and make everyone pay for his attempted execution. Many adventures laid ahead for centuries to come. This is the Deadpool that today's Deadpool idolized and decided to name himself after. Little does Wade Wilson know, that he has resurfaced to take his name of Deadpool back, and little does Wolverine know that he has come to get his axe back.

Thanks for reading my original character biography, hope you enjoyed it as much as I enjoyed making it up. :)

He is made from
Head: Spawn figure
Torso: Terrax
Arms Thighs:ROML Thor
Hands:Terrax
Lower Legs: SMC Juggernaut
Cape: Wraal
Shoulderpads: Ultimate Rhino
Pelvic fur:Mcfarlane zeus
Axe is real metal

Sculpted the forearms and hands.

Also threw in a picture of another concept at the end...What if...Thor joined the Deadpool Corps. I liked the Medieval concept better, but they are both cool in my book. Enjoy and good luck fellow customizers.