Zombie Clone Pilot (Star Wars Clone Wars) Custom Action Figure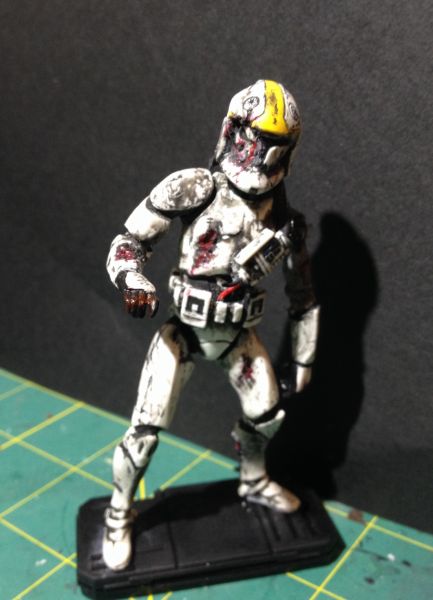 'Infected. How can this be? Ever since my training on Kamino I have always been the picture of health. Now look at me, I'm a walking viral time bomb that could go off at any moment. That will go off at any moment. I've been infected; there is no way I'm not. When my co-pilot sunk his teeth into my forearm, I knew. I knew it was just a matter of time before my world went black. It wouldn't be long until I started turning on my friends, brothers, allies, or anyone else who has the misfortune of crossing my path. I try to stand and walk. I fail miserably.
I can feel my body try to fight off the virus. There is no hope. I am powerless to its gruesome effects. Hard to believe a little over an hour ago I was perfectly fine. Until I see my co-pilot collapse to the ground clutching his sides. I rush over to help. I roll him over. He turns on me. I tried to fight him off, but the infection gave him an ungodly amount of strength. I throw my armor-plated arm up in self-defense, but he bites through it as if it were styrofoam. My mind aches as I remember the feel of his teeth penetrating my covering and deep into my flesh. I can't believe this happened to me. It was done though, and my life was soon to be over.
Fear begins to take effect. Nothing in our training could possible prepare us for something like this. The thought of eating one's own kind, and enjoying it. An unimaginable hunger begins to set in. Nothing in my ration kit can appease it. Only living flesh can satisfy me. Stang, no!...By the force someone help me! I don't know what to do! I have a strong desire to eat someone, a living person. Humans, people that I've probable seen or interacted with in some way. I am now thinking of how they will taste. What scares me the most is I like the way I think they taste.
There is a small outpost up the road with at least two troopers in it. They will open the security door. They will let me in. Then I can….oh please no! How could something so evil ever cross my mind? I have known most of them since we were cadets in training. I do not want to kill. I spy a lone blaster pistol on the terrain below. Perhaps I could kill myself. Save someone else the trouble and possibly save a lot of lives in the process. One squeeze of the trigger and this whole nightmare would end. An end I would gladly accept.
My mind gives the order to pick it up, but my body refuses. I just stand there in suspended animation waiting to see what I will do next. It becomes painfully clear that I am now a prisoner in my own body. My mind becomes hazy and numb. I am now right outside the outpost door. I do not remember how I got here. I press the intercom button. No answer. Rage builds up inside. Why are they not responding?! I press the button repeatedly. A trooper's voice responds asking for a clearance code. I do not remember what I said or if I said anything at all. I must have because the door just opened.
I push through it. Saliva builds in my mouth as a spot the first trooper sitting behind a control panel. His helmet and rifle are out of his reach; bad training. All it takes is one bite or even a scratch to free him. I have the power to save him. To free him from his world of sorrows, and responsibility. From death and pain. I have the power and I will save him. I launch myself on top of his control panel. He stumbles back and falls to the floor. I pouch on top of him and sink my teeth into his left shoulder. My teeth go straight through his armor as did my co-pilots. He is screaming and fighting to free himself. He cannot. He hits me with a metal piece of debris against my head. I barely feel it. I feel his body grow weaker as I bite down harder. A piece of his flesh breaks loose and I happily swallow it.
It will not be long now until he is free; until he is like me. He has stopped moving now. I have overpowered him. His body is motionless on the floor. I watch as his eyes roll back into his skull and his breathing stops. Sometimes the transformation kills humans. I release him. He will no longer be a threat, but he will feed me for a few days. I rise from the floor when I hear a noise followed by pain in my chest. I drop to my knees as I look down. There is a gaping hole in the center of my armor. Smoke still rising from the wound; I turn to find the cause.
Standing behind me is the other trooper, holding his fallen brothers rifle. I can see the tip of the barrel is still red from the first shot. He points the gun at my head and I hear the noise again. My world goes dark.
Pictures
User Comments
Custom Figure on eBay
Previous / Next Customs
Disclaimer
The figures contained in the Custom Showcase are not for sale by Figure Realm, and the creators of the customs are no way affiliated with Figure Realm. The Custom Showcase is purely for entertainment purposes and only provides a means for the creators to show off their work and trade ideas. Figure Realm does not make or sell customs.