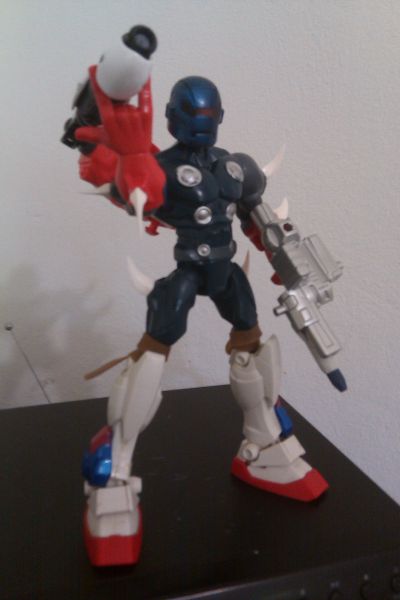 | | |
| --- | --- |
| Custom #: | 61896 |
| Name: | Feral Force , R.a.D. O-Ne |
| Custom Type: | Action Figure |
| Toy Series: | Marvel Universe |
| Creator: | En-Ryu-Oh!2061 |
| Date Added: | May 26, 2014 |
| Base Figure: | Marvel Mashers Thor |
| Height: | 8.00 inches |
| Completion Time: | 12.00 hours |
Hi again my friends! , my second custom of the day is the 4th member of the Feral Force , R.A.D. O-ne , developed as a Rapid Assault Drone , operated remote by a controller , it was suppose to be Stane Industries ace in the weapons marketplace (they went as far as painting them Red, White and Blue not just for the American market but for the International as well ,since many countries share the same colors , want a different color scheme , it will cost you extra!) , or so it was meant to be , you see they only manage to create just "one" , it incorporated so many stolen designs and ideas from other companies (and some villains as well) , like the Wizards levitation discs (6 of them in his chest) , a portion of the Living Laser's body contained in a special cannon (mentally still connected to the Living Laser , every time it was fired he scream like crazy on his special cell in a SHIELD secret prison , and a special set of robotic legs from a Japanese robot company (Sunrise) that it was a lawsuit waiting to happen , also the system required the use of special "black box" created by the late Ex-president Obadiah Stane , the only prototype forever lock within the Original Iron Monger's armored helmet , so they were force to use it as the R.A.D.'s head , everything work fine for about 3 months , then the trial initial programing ended and Stane's real program begun (prior to his death , Stane downloaded his personality , memories , knowledge and insanity into the black box , the O-ne System , it's not one (1) , it's short for (O)badiah Sta(ne) , a man's insane effort at immortality , one would think that once the program kick in it would go berserk , wellno , the frigging coward run faster than Road Runner out of there (I guess deep down Stane was a coward , he did commit suicide!) , how or why he was recruited , simple , remember Z-666 and how he was trap in the Moon , turns out he wasn't alone , the fool was hiding in a Hydra storage facility and got shipped on the last vessel to the Moon (right before all hell went loose) , When the Feral Force emergency landed , he sneak up into the ship , repaired and hacked into it's system , of course the idiot got cough red handed and pretty much begged for life (Z-666 was gonna pulverize him!) plus the ship won't start without him , so with all that and is "potential" they decided to keep him . Hey just wanted some comedy into the story , every group need a comedic Tool(or in this case Fool!) . Recipe , Marvel Mashers Thor's upper body and Spiderman's hands , Original Gundam Model legs , ML Iron Monger's head , a portal light up LED cannon and a few other fodder pieces to add some shape and color , a fairly simple mash up , that luckily fit nicely together , hope you guys like it , later , Thanks!