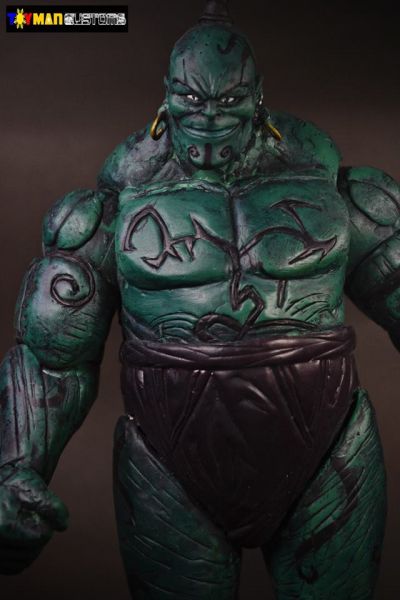 Jihad sought to conquer all other dimensions, but to do this he needed to acquire four artifacts of great magical power. To this end, he enlisted (or forced) countless heroes to gather these items, but none would prove successful.

It was sometime later that Jihad would defeat the legendary Sinbad and captured his daughter, Dione. Sinbad however, had learned through an oracle of the existance of the heroic Fantastic Four, and was able to trick Jihad into choosing them as his next pawns in obtaining the magic artifacts. In order to force them to his realm, Jihad sent four elementals to battle the Fantastic Four, as well as a monstrous hydra to capture their family and friends. While the Fantastic Four were occupied with the elementals, the hydra had taken Franklin, Valeria, Caledonia, as well as Puppy, and brought them back to Jihad's realm.

POWERS AND ABILITIES
Jihad is a being of immense size and power. He has considerable strength and durability, not to mention a vast array of magical abilities. These magics include (but may not be limited to) interdimensional travel, the ability to transform himself and others, flame breath, levitation, and countless other spells.
He also has various entities under his control, including several elementals and a hydra.

SCULPTED BY TOYMAN ARTIST ERWIN DELA CRUZ AND PAINTED BY JUMBO!!!!