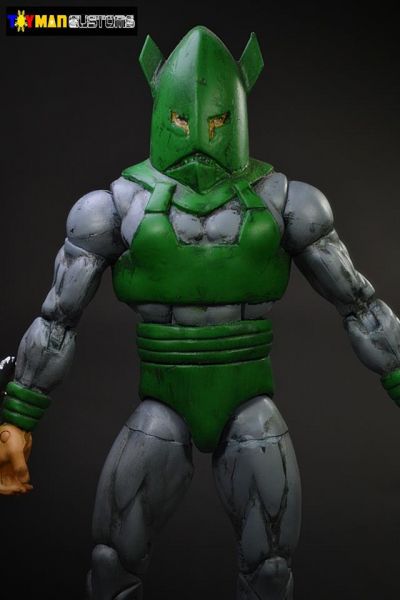 | | |
| --- | --- |
| Custom #: | 62170 |
| Name: | Whirlwind |
| Custom Type: | Action Figure |
| Toy Series: | Marvel Legends |
| Creator: | toymancustoms |
| Date Added: | June 5, 2014 |
| Base Figure: | WRESTLING FIGURE |
| Height: | 7.00 inches |
| Completion Time: | 80.00 hours |
| Articulation: | 32 points |
A devastating villain that would occasionally hound the Avengers first began when a young David Cannon realized that he had a unique talent to move his body at great speeds. Fascinated as to how he never grew tired or gained sickness, Cannon realized that he was untouchable when spinning in a tight circle. Cannon quickly started on the wrong path with his gained talents by becoming a bully towards other children and then used them for his criminal career as a petty thief. As an adult Cannon found legitimate work as a circus performer, a professional wrestler, and a professional ice skater. However Cannon's talents caught the attention of some criminals who specialize on fixing games and employed Cannon to help them with their criminal gains. Cocky and flamboyant over his success, Cannon grew careless over his actions as authorities grew suspicious over his activities which caused him and his criminal partners to be investigated.

Growing over confident with his success and abilities, Cannon quit his career on fixing games and pursued a criminal career as a costumed thief. Designing a costume and an alias that strongly resembled his abilities, Cannon embarked on a crime spree as the Human Top.

David Cannon is a mutant who has the ability to rotate his body lengthwise at superhuman speed. He can spin his body at about 400 revolutions per minute. It's unclear if his arms or other limbs could spin the exact same amount and carry the same amount affects. When Cannon's body is completely engulfed in the self-made whirlwind, his body becomes centered focused to where he could still see, hear, and speak. He could also travel any direction when spinning and travel up to 50 miles per hour in a straight line without tiring. Another unique feature of Cannon's powers is that when he's spinning, he becomes extremely difficult to physically touch because of his body's abnormal rotation. Even though Cannon does appear to be human, his physiology isn't normal because of his body adapting to his abilities. Because of this, the body fluids within Cannon are thick as heavy oil and his organs are more thick and durable than normal human physiology

Cannon later found ways to manipulate his powers to where he could use them for combat. Instead of having his entire body spinning in a whirlwind, Cannon could ride the whirlwind that his body made, leaving his upper body exposed. He also could manipulate his arms into forming small tornadoes that could be used against opponents. After awhile, Cannon managed to manipulate his abilities and reflexes to where he could deflect massive objects, pick up any objects while spinning, quickly change in and out of clothes while spinning, and physically attack a person while spinning.

SCULPTED BY TOYMAN ARTIST RAYMOND CEDILLA AND PAINTED BY JUMBO!!!!