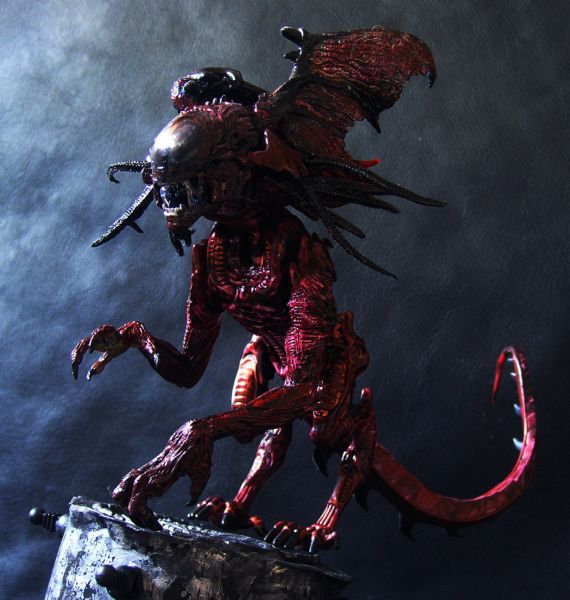 | | |
| --- | --- |
| Custom #: | 63156 |
| Name: | Aliens Armada: the Azazel |
| Custom Type: | Action Figure |
| Toy Series: | Alien vs Predator |
| Creator: | N TT |
| Date Added: | July 2, 2014 |
| Base Figure: | Neca Predalien |
| Height: | 7.00 inches |
On a distant asteroid where Predators visit to hold a ceremonious occasion, a hunt is performed for a highly elusive hybrid. The asteroid is so large that it supports numerous caverns, gorges and jagged mountains. The challenge involves two teams of 2 Wolf rank Predators armed with full combat gear, converging from either side of the ridge toward the center, in hopes of out-witting the other team while also trapping their quarry. The winning team would receive tribal honors, and supply/refit rations for their ship and armament replenish. Spoils to the victor, indeed, but hunting this creature let alone killing it would prove to be an entirely different matter.
Lending the name from the Xmen character, this hybrid was also capable of teleporting - which of course would be helpful when chased by a bunch of blood crazed Predators. However, it wasn't able to teleport at will. Spread out along the asteroid were these columns, built by a sympathetic race intent on helping this creature. These pillars enabled the hybrid to teleport from station to station, evading capture. Sort of like Death Race Meets AVP. To the Predators, true glory was to pounce on their kill just at the moment before it disappears, teleporting together and plunging a dagger into it soon as they re-materialize. A victorious roar growl would then be heard at the next port. But killing the creature by whatever means possible was also ok, however both teams usually never made it off the rock.
Then one day this sack-o-crap space freighter (piloted by Guy Pearce as a young Weyland) crash lands on the asteroid and a couple of humans come out to survey the damage. They detect and later decide to dismantle these columns, using the material to repair their own ship, not knowing, or perhaps not understanding, that this technology was able to produce temporal distortions. Without these pillars working properly meant sneaking by those Predators was now going to be a whole other ball game.
head - Neca Predalien with wings from a McF Curse of Spawn, Predator Hound braids
body - Panther Alien
legs - Wild Boar Alien
tail - Yu-gi-Oh! Wingman
Column - 1L plastic juice bottle overtop upside down margarine container, sculpted top platform and added 4 Kenner Alien heads. Included clear red beads for effect. Black base paint with silver drybrush.
Thanks for checking this one out.