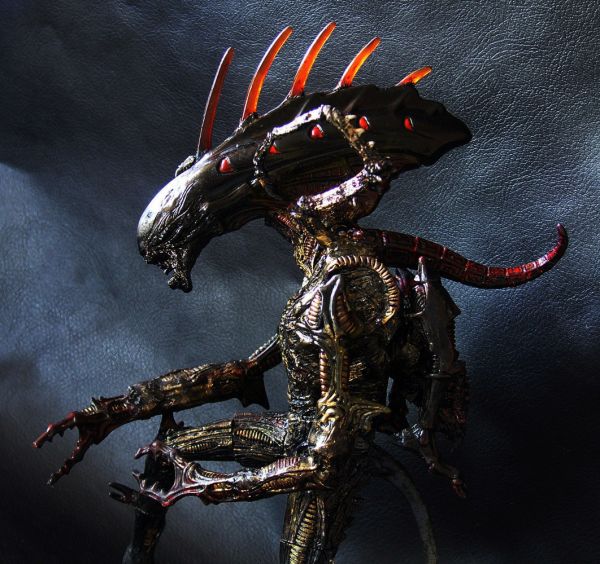 | | |
| --- | --- |
| Custom #: | 63507 |
| Name: | Aliens Armada: the Overfiend |
| Custom Type: | Action Figure |
| Toy Series: | Aliens |
| Creator: | N TT |
| Date Added: | July 12, 2014 |
| Base Figure: | recipe |
| Height: | 11.00 inches |
Strewn across this G-Class planet are the countless bodies of army Alien warriors, killed in an encounter with another species. On this habitat, however, nothing is wasted. Nearby organisms, indigenous to this planet, eventually make their way out of the woodwork to investigate the corpses of these Aliens, sifting through the salvageable. On their own, these parasites are weak, vulnerable to the elements and other predators. By occupying the dead husk of the Alien, they find protection, like wearing a suit of armor. Co-operating together and functioning symbiotically with other organisms, they manage to resurrect the dead xenomorph warrior. One type of parasite might be responsible for tapping in to its synaptic systems, while others would propagate motor skills, or entirely replace the function of a vital organ. Overtime, it could very well vessel a community of organisms, including other lifeforms with unique contributions, thereby perpetually upgrading its construct. Organisms capable of bio-molecular toxins would advance their predation abilities. While other parasites could supplement mutated growths to enhance spikes and barbs for their defenses. All would be operating in a collective unison - creating what would be regarded as the ultimate Overfiend.

head - front (Gorilla alien, added clear dome made from clamshell) back (Wild Boar Alien)
body - Neca Predalien
arms/back parasite - Killer Crab Alien/Praying Mantis Alien
neck tentacle - Gargoyle tail
shoulder prongs - McF Miss Moffett spider legs
legs - Assorted Alien arms/limbs fodder
tail - Devilman Saylos

"Now blast that bug right back to palookaville, Marine"!
Thanks for having a look.