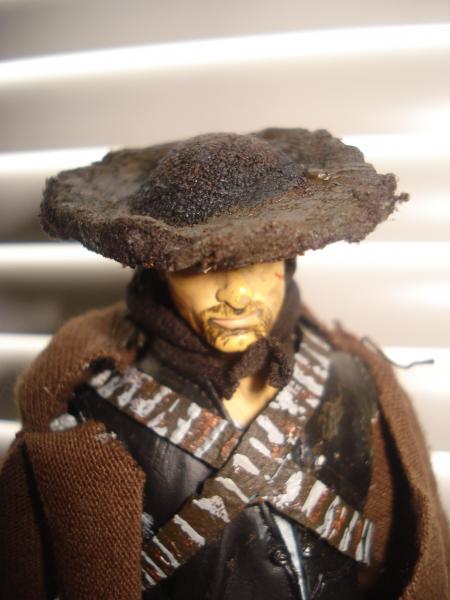 To make this figure, I used the whole upper body of Aragorn, Then added Movie Spider-Man legs, painted him, and hand made the hat, coat and pistol. the belts on his waist and chest are made from rubber bands.


It all began with Castel's mother(Obviously). She was a Mexican Nurse, named Rosalia Morrez, Helping aid those injured in the wars between Mexico and America. After all of the battles were over and Santa Anna surrendered, 2 drunk Americans celebrated their victory by raiding her tent and raping her. Thus Castel was born. Castel was told by his mother one day, what had happened. She told him this as a caution he needed to take, with all Americans. This enraged Castel, and so he tracked down, and brutally killed the two men. It took him 3 years, but he had done it. Unfortunately, Someone else decided to get their revenge that same day. Castel heard screams of terror when he returned home. The whole village was in flames. It turns out a small group of ex-American soldiers had come through and destroyed everything, in retaliation to one of the men from the village raping one of the their sisters. Castel rushed inside his house, only to find his mother, dead by a gunshot wound to the heart. Castel ran back outside to find the men, but instead was confronted by some sherrifs and a witness.

WITNESS:"This here's the guy, He's the one that killed those two fellers in Cottonwood, and now it looks like that wasn't enough, he dun had to mess everything up here too!"

The sherrifs cuffed Castel. Castel tried to explain, but was pistol whipped and knocked unconscious. 5 years later, Castel escapes from the prison. It isn't long before they're onto him again, as some prisoners ratted him out. All Castel wants is a life of peace. He is a framed man, nothing more (except for crazy expert killer, fighter and shooter, hehe). but with sherrifs all over looking for him, he realizes his life of peace might not happen. Castel is forced to kill all the bounty hunters and sherrifs that are after him. He is a wanderer, hoping one day, it will all just blow away, and he can live his life of peace. But he knows to have that, he has to kill every man that wants to do him harm. *Cue the cool theme music*

NOTES
*Castel is an expert killer, he has learned from the best fighters in his village, and on his travels, meets more Western Legends, who also teach him how to fight. Castel has learned from Wyatt Earp, Doc Holliday, Billy the Kid and many others from all over.*

*Castel speaks perfect english as well as spanish.*

*Castel wants to find the men who raided his village too, I forgot to mention that. Violence then peace, hehe.*

That about wraps it up. Thank you guys for checking this out!