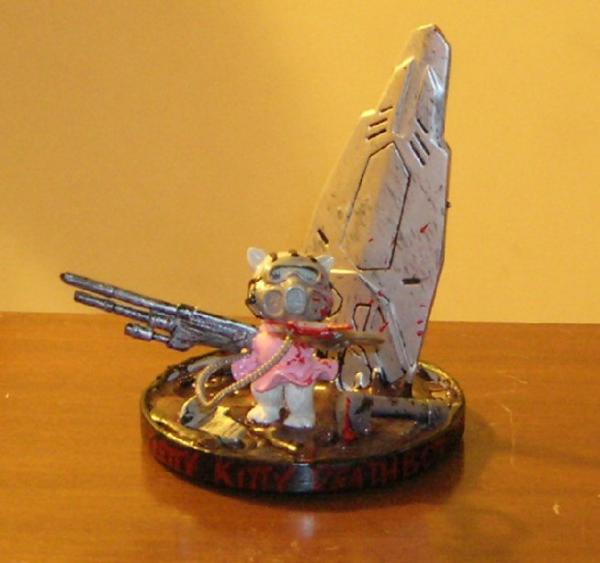 | | |
| --- | --- |
| Custom #: | 7104 |
| Name: | Pretty Kitty DeathBot 3000 |
| Contest: | Ostentatious Originals |
| Custom Type: | Action Figure |
| Toy Series: | Misc |
| Creator: | JunkPunk |
| Date Added: | April 14, 2008 |
| Base Figure: | Halmark Kitten X-mas ornament/various scrap pieces |
| Height: | 3.00 inches |
The future holds no bounds. That is unless you have slipped into the past. Dr. Konqor had done just that. Being from year 3417, not much was a challenge for the good Doctor. Heck, almost everyone was called a doctor, since the perfection of selective breeding was initiated over 1200 years ago. Konqor needed a challenge, and he got it.
His Friend had managed to create a sort of "Time manipulator", which could send one item back to whenever he wanted. He longed for the days when being smart was rare, and feared.
He asked his friend to be the first test subject, and was obligated as well.
They set the time for 1996 AD. After that, it was a hand shake, and off he went.
There were no real theatrics in the transport. Just a couple bright flashes and poof, 1996. Unfortunately, the landing process was difficult. See, when he left, he was at the 2nd story of a building. Now he's about 15 feet in mid air falling into an animal park.

The machine was partially damaged, but he knows he could fix it. He hid the machine, and traveled off into the new/old world. He wasn't ready.
An hour into his venture, he had already been picked on by complete strangers over his style of clothes. And one person that complimented his shoes, ended up holding a knife to him for them. True, Konqor was smart, but no one in his time had a use for fighting, so it was a loss part of culture to him.

wandering into a back alley, he heard noises. Banging, booming, and blasting. This intrigued him, so he snuck in to catch a glimpse. It was marvelous! All of these people sitting together watching a film on some futuristic robots coming back in time to start a revolution. They had robots in his time as well, but non were ever to be more than a servant of man, and never had been programmed to hold a gun. This excited Konqor.

Ducking back out of the door, Konqor was witness to a middle aged woman being held up by a man at gun point. He had already taken her bracelet, and necklace. And he was trying to get the diamond studded collar off of her cat. Well, Konqor didn't call it a cat, he didn't know what it was. 80% pf wildlife animals had been extinct, and domestics were only down to the birds, and a couple hybrid dogs.

The mugger strikes the woman, to which she drops her cat, and runs. The man is able to retrieve the cat, take its collar, then throws it up against a wall into a garbage can.
Konqor has never seen such barbaric behavior out of anyone before. And it made him violently ill to know that these people are his ancestors. He goes to the lifeless cat and looks at her.

Pretty Kitty. She was wearing a pink dress that said that on a tag. He reached out to pet it. It was badly wounded. Face had some real damage. Front legs were shattered. Tail had been broken open. But it was still alive. Konqor saw it's eyes, and it saw his. It had a faint sound, but to him, it was an eternal scream for help. He wouldn't let it die.

He finds some rags and wraps the Kitty up in them and heads off for assistance. Not too sure of locations of hospitals or whatever, he is able to get into a pawn shop. He lays the cat down on the cashier's table and looks around.

Junk. The place is wall to wall with it. Various machines, tv's, stereos, weapons, whatever you need. It's in there. And Konqor just thought to himself that this place has so much potential. He goes back to the cat. He then gets enraged, again. How could people be like this? Why do they choose to be so? What can he do to change it?

He then remembers the movie. Robots, coming back in time for the purpose of their better tomorrow. It's a good thought. And Konqor knows that this world he's currently in is headed for a downward spiral without his help. and his new friend's, too.

Konqor grabs a hammer from behind the counter, and smashes into the machines. He then looks at the insides. Wires. Motors. Gadgets. This will do. He runs back to the kitty, and tells her that everything will be alright, and even better than ever.

Konqor finds a child sized gasmask that he is able to change into a breathing apparatus for the Kitty to survive on. As konqor works frivolously on the cat, he thinks to himself. These people need someone smart to point them in the right direction. they need a good leader. They need.... Me.
But what if they revolt? what if they don't agree with my ideas? what if they feel that being these wild creatures is a great way to live?

Maybe they need some persuasion?

Konqor grabs the shotgun, and a trunk clipper from the wall. As he replaces her front arms with these items, he pulls out a small box with some powders. Some of the powder is a growth hormone he was using on some crops at his mom's garden. He throws some into the cat's mask to let her inhale the growth powder. within minutes, she grows to the size of a small child. She is now big enough to hold up her new limbs. the Growth hormones also added a new feature to this once on the brink of death Kitty-cat. Speech. She was able to communicate with the Doctor. And as she stood up just then, The owner of the pawn shop came rushing in with his rifle, and got off three shots. All of them landing into Doctor Konqor.

Kitty knew everything that the Doctor had done for her. And she had agreed with the Doctors Ideals. And because of this stupid human, with his shoot first ask questions later mentality, the doctor is now dead at her feet. You never want to piss of a cat.

Before the pawn owner even knew it was real. The Kitty had grabbed him with her gigantic claw arm. With her other arm, she fired four slugs into his stomach. and before his eyes closed, she shut her claw, taking his head off at the top of the neck.

Kitty looks at the scene before her. The only one to really care for her, if only brief was dead. And she now has blood on her. She takes off into the night.

She remembers the Doctor describing to her about his time vessel, and where he had hid it. As she got there there was a second vessel. It was his friend. Although, he didn't look to friendly, anymore. He had brought with him a nuclear bomb, that was powerful enough to wipe out the earth. But he wasn't setting it off here. He was gong to set it off back in his time. That way there was nothing to go back to, and it would be his chance to rewrite history.

As he sends the bomb back to his place in time. he feels a very cool, and sharp object touch his back. Kitty's got claws. He turns around with some sort of protective metal face shield, and a pistol and fires a shot right into Kitty's tail. It was a terrible shot. But this was a minor set back for Kitty. Kitty grabs the gun out of his hand. Actually the hand off his arm. She then shoots at the man's face, knocking the metal mask off, but not killing him. She then whip-kicks him with her new tail, and he falls back into the machine. before he can get back to the door, it closes, and travels back to his time. Which is to be destroyed.

Kitty now knows that the future can be uncertain. If people are so barbaric in this time, and so maniacal in the future, what is she going to have to face? Only time will tell. Will she be ther to defend the people? or will she choose to take over?


THE END




This was a fun story for me to write, as that I was just coming up with it as I was writing it tonight. This was a fun build to do as well.

The base for the figure was a broken ornament of a cat playing tennis. It had been stepped on, and thrown away. But I saved it. I put most of her back together. I also decided that since her arms were beyond repair, to give her a new life and meaning. I rummaged throw my action figure arsenal box and found several pieces. first a jaws of life from a fire fighter set, and a already cut up gun that I had previously taken a piece to use in my "Ashley J. Williams" Figure.
After gorilla gluing then into her arm sockets, I found a small gas mask. I heated it up, so I could form it to her face, and then glued that on as well. And the tail was some cord from god knows where.

I then repainted her with some acrylic, and worked on her base.

The bases was originally a salsa jar top. I filled with Hot Glue, and stuck in several cut up toy parts to resemble the broken time vessel Konqor had used to get there. I also took a hand and pistol for the friend's hand, and made the metal mask by painting a figure's face with 3D paint, then peeling it off. and then painting it silver.

A little more blood splattering, and presto! Pretty Kitty DeathBot 3000! I hope you enjoyed the figure, and the story as well. Not bad for my first contest entry... I hope.