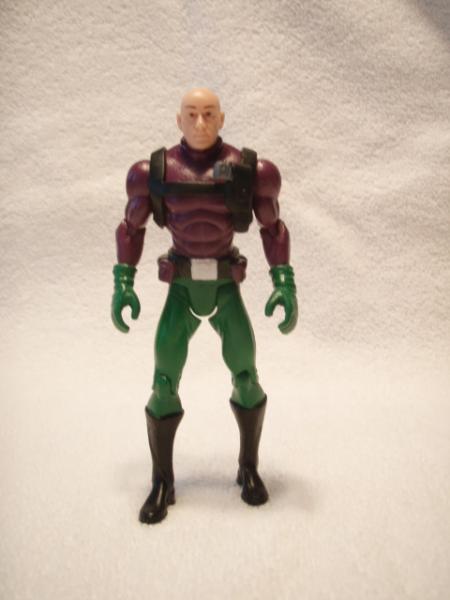 | | |
| --- | --- |
| Custom #: | 7126 |
| Name: | Lex Luthor |
| Custom Type: | Action Figure |
| Toy Series: | Superman Returns |
| Creator: | manomight1974 |
| Date Added: | April 16, 2008 |
| Base Figure: | Superman Returns Hologram Jor-El body, Superman Returns Lex Luthor head and hands |
| Height: | 5.00 inches |
Okay, this one is pretty easy. First, completely remove the head and neck from the hologram Jor-El figure. Next, using your dremel, sand off the "S" symbols on the figure's heals and chest, as well as the belt and the little lip that designates the line of the trunks. Using milliput, fill in the hole where the neck was, and take the Lex Luthor head and jam it into the milliput to create a proper cavity for the new head...leave it in the milliput for only about a minute and then remove and allow the shaped milliput to dry completely over night. Once dry, re-insert the Lex head into the new neck cavity and glue in place with any over the counter modelling glue (I use Testors brand, but I suppose any will do). Once the glue is completely dry, apply a thin strip of milliput around the neck to create the collar, and a thin strip to the tops of both boots to cover up the fact that these were once Superman style boots. Allow the milliput to dry completely and then sand smooth. Next, take the gloved hands from the Lex Luthor figure and trim the forearms down so that all that is left of the sleeve from the forearm is a thin peg jutting out of the black glove. You are goung to want to then cut a portion off of the forearm of the hologram Jor-El body and drill a pilot hole into the stump to fit the peg on the gloved hands. Test fit it, and then glue in place. Next, before painting, you will want to get a JLU Lex Luthor figure and remove the shoulder holster harness and utility belt. Take the utility belt and cut it open through the center of the buckle. Using dremel, sand away the buckle and glue the belt to the new figure's waist. Once the glue is dry, use milliput to create a new belt buckle on the figure. Paint the figure. Once the paint was dry, I slid the shoulder holster harness down over him, and TA-DA...Lex Luthor!!!!

Please let me know what you guys think of him, and as always, comments are appreciated.