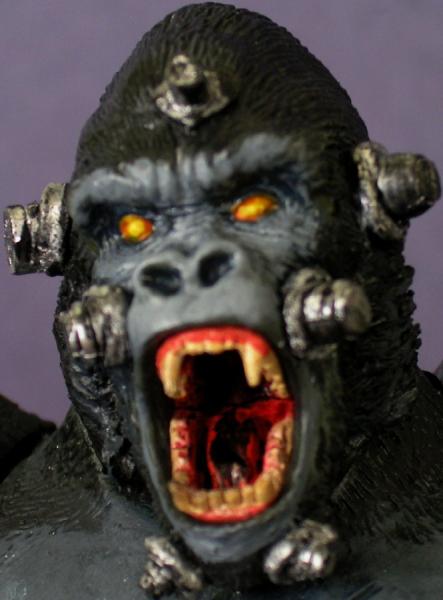 | | |
| --- | --- |
| Custom #: | 7230 |
| Name: | Kriegaffe #10 |
| Custom Type: | Action Figure |
| Toy Series: | Hellboy |
| Creator: | N TT |
| Date Added: | April 23, 2008 |
| Base Figure: | Gorilla Grodd |
| Height: | 8.00 inches |
Although most of his body was destroyed, his head was kept alive in a jar. Doctor von Klempt created what he called a 'kriegaffe' (German for 'war ape'), a sort of Frankenstein monster-like ape, to do most of the work he could no longer perform himself. At some point he had a swastika tattooed to his forehead.
After the war, von Klempt retreated to Macapa, Brazil. It was there in 1959 that he was confronted by Hellboy, who was investigating the disappearances of peasant girls in the area. Apparently the sick Doctor was extracting spinal fluid from these victims to support his own life. In the fight that ensued, Hellboy defeated him and his ape, whom von Klempt dearly called "Brutus". Von Klempt's inert head would not be seen for decades, until now.

The two mechanical arms were made by taking apart a plastic toy binocular, and using the tubular portion as base. Sculpt work was done overtop to create a rough metal finish and also sculpted the fists. More sculpt work was done on the chest/belly to add a bit of Mignola style to it, and all the bolts were also made from scratch.
The head in the jar had sculpt work done and was originally the unmasked portion of Kroenen's face. The head stand was assembled from random fodder parts, with toy octopus legs, and the glass jar was cut from a test tube. Botched up a few test tubes before figuring out how to prevent them from cracking. The glass cutter was utterly useless, so the only way that worked was to tape up the area of the tube where the bottom was to be, carefully broke off the glass up to the tape (as close to), and sanded down any excess glass. The tape acted more as a guide, marking the final length of the tube and didn't really help to prevent cracking (well, maybe a little). Removed the tape, sculpted the glass jar to the head stand, and with a bit of luck, managed to pull it off.
Can't wait to see the rest of evanjones1 Hellboy animated line, as this custom was inspired by his Johann Kraus & Roger the Homunculus (that's not a bad word) figures.
Hope this rocks your world!