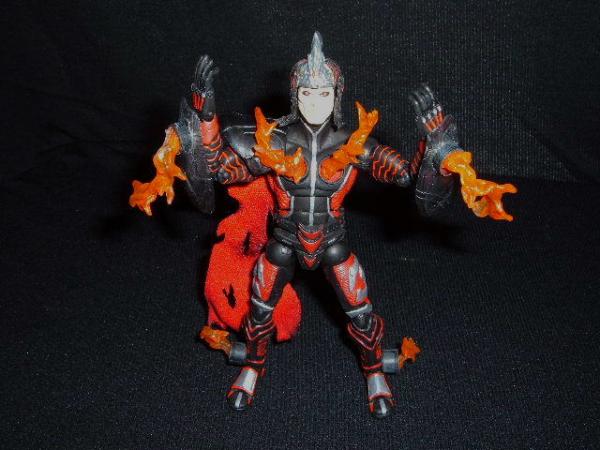 Hello Customizer Enthusists, this original character "CHAOS EMPEROR" was made from mostly an XMC Magneto, LH Ripclaw head & legs, ML Face-off Red Skull arms, and other figure odds & ends. When I started this custom a week ago specifically for this contest I had a couple of things in mind. 1) To make the character visually interesting and different from any other character seen (EX. The flames coming out of his body, the red lines striped around his arms & boot simulating the power coursing though his body, the one shouldered cape like Roman emperors, and the crown & dead white emotionless of his face "which didn't photo well" that gives him that look of regal penance. 2) A great back-story written in a couple of hours just for this custom giving the character purpose for both his actions and design.
Chaos Emperor: Origin

The man who is known as the Chaos Emperor was once the greatest hero in his universe. He used his power of absorption and redirection to fight for justice across the vast galaxy. With the fellow heroes of his Earth, he fought against petty thieves to cosmic madmen, world conquerors to forces of nature in his quest to bring prosperity to all worlds. Visiting planet after planet, the hero that Chaos Emperor was had brought technology from worlds that were grateful for his assistance and also absorbed from alien animals remarkable healing properties that he brought to his Earth to cure deadly diseases such as Cancer and AIDS. Little by little he started to notice mankind's penchant towards destruction and greed that was bringing about the end of justice on his Earth. As murderous criminals and crime lords were set free by a corrupt legal system that was allowing them kill or poison the populous again and also the technology that he brought to help was being used to harm by these same criminals. It was the same corrupt system that allowed Chaos Emperor's hero days arch-villain to be set free and after that villain learned Chaos Emperor's secret identity, the villain killed his family. A hero's hero, the man that Chaos Emperor was did not kill the villain in retaliation for his family instead brought him back to justice. As the door of justice revolved again with the greasing of palms that same villain with the help of other villains destroyed three entire cities in a botched ransom plot. Feeling those countless million deaths were his fault because he failed to kill his arch-enemy before this incident, shattered his heroic façade as he went rampant absorbing the powers of both friend and foe in an attempt to bring the world back to order, his order. With the exceptions of technological themed, martial arts and magical persons, Chaos Emperor was the last S.P.B or Super-Powered-Being on Earth. With a hundreds of powers at his command, Chaos Emperor conquered the universe to keep it safe from it's self, all the while absorbing traits and powers as he went. Named the "Chaos Emperor" by the populous of the universe, the hero he once was disappeared leaving only an order-seeking madman that became a greater threat than any before him. Fearing for the future of the universe against the now seemingly indestructible threat of the Chaos Emperor, the greatest minds in all the galaxies created a Zone Teleporter that would send the Chaos Emperor to a different dimension to save their own. So it did but not before the Chaos Emperor absorbed the beam and redirected it back at his own universe apparently destroying it completely. Standing alone and grieving in the white nothingness he created, the Chaos Emperor was visited by the Cosmic Lords. Who told him that his universe phased onto another universe causing a wave of destruction that could annihilate the multiple universes altogether, they then transformed him, in penance for what he had done and infused him with the Galaxian Explosion, his great power now showed throughout his body in the form of inextinguishable founts of flames that feeds off the powers and abilities that he absorbs. The Cosmic Lords also told Chaos Emperor that he could leave the Multiverse to destroy it's self and he would still live through it or save all of reality by searching the Multiverse for the overlapping universes and ignite the Galaxian Explosion by sacrificing himself causing a big bang that will set everything right again. What will his choice be and what ramifications will it cause for the Multiverse?