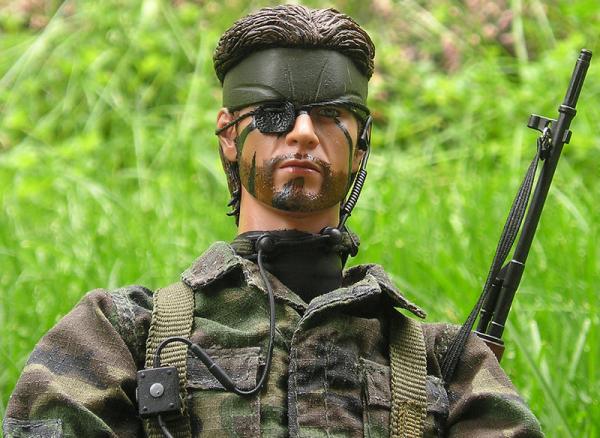 I bought a basic 12" Multi-articulating figurine on a website and basically went crazy on it. I wanted to create a MGS3 "SnakeEater" figure that would do that game justice. The ones that Medicom did were cool,but I like mine better. Let me know if you believe I pulled it off a killer figure as this is my first ever custom.
I have almost ALL his gear....RPG(rocket comes out),AK47,XM-16(suppressed w/ a few xtra mags),MK-22 Traquilizer pistol(removeable),SVD(Dragounov), Grenades,Throat mic and radio(removeable),Canteen(removeable),Jungle boots(removeable),Jump rig harness(removeable),web gear(removeable),Eye patch(removeable),Woodland camo BDUs and Black BDUs(removeable),Pilots Knife(removeable),.45 auto(removeable),and much more I can't think of right now. Custom painted and sculpted face,hair,facial hair,and headband...
As well as some custom work to his weaponry and gear.

I hope everyone likes it...please feel free to message me and let me know what you think....I'm a knifemaker by trade but I like to do this for a hobby. :)

NOTE->I may put this on E-Bay if theres enough intrest. Or if someone wants it,msg me.

p.s. His headband isnt all done yet...I have a small piece I am gonna connect tonight.

Thanx for looking.

-E.